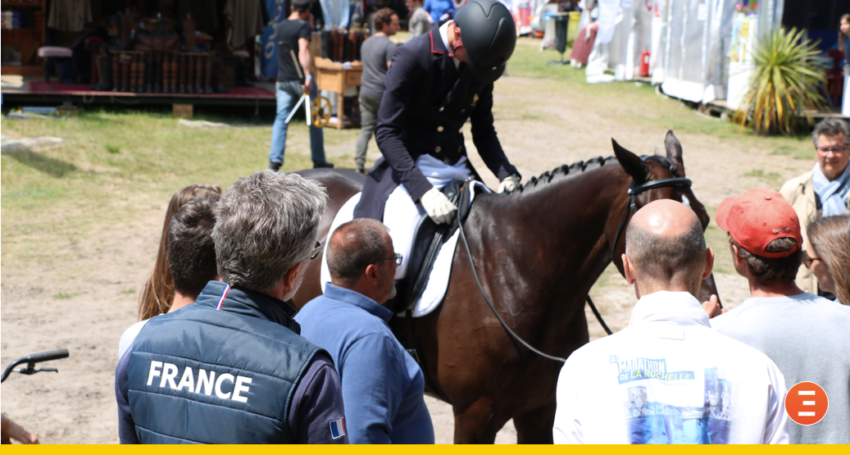 4 Techniques for Show Riders to Handle Stress
4 Techniques for Show Riders to Handle Stress
You're always under a lot of stress when you ride, especially during a show? Let me give you 4 solutions to solve this ⏩
A few weeks ago, I was lucky to be able to see a presentation from Jonathan Rougier, a sports psychologist, trainer and Hunter rider, about the rider's mental preparation, and the benefits Hunter brings in this context. I thought it'd be interesting to share this with you all.
Huge thanks to Jonathan for the help he gave me while writing this article.
How to handle stress #1 – Set a technical AND a show goal
Setting goals is really important to channel motivation.
There are 2 different types of possible goals:
show goals (

comparing myself to someone else

)

technical/progression goals (

comparing myself to myself as days go

)
You can reach a goal in 6 months, or you might reach it in a week. What's important is to have one.
And when you register/participate/compete in shows, it's important to have both technical and show goals.
Indeed, only having a show goal isn't enough to win, and only having a technical goal kind of makes you lose that competitive spirit you need to perform.
It's rather well known for other sports: when you only focus on winning and not technique, you can get too "aggressive", at the expense of technique. For horse riding, that's often why you can see riders speeding up to beat the time and forget the quality of their riding so they can win the finals… and end up knocking over a pole. Too bad!!
Furthermore, setting a technical goal forces you to have a more rigorous training, led with more care, and this helps you mentally prepare! Indeed, if you train more, you'll be more relaxed for/during the show and you'll have less stress!


What is a good goal?
We say of a good goal that it is SMART. It's an acronym which means:
Simple

(or Specific) – this means your goal is easy to understand but specific enough to be precise

Measurable

– this means you have to be able to measure whether or not the goal was met. This allows you to figure out if you're on the right track or not.

Ambitious

– this means there need to at least be a little bit of challenge, if not there's no fun… ⚠️ BUT …

Realistic 

– because if you can't do it, there's no point other than demeaning yourself

Temporally defined 

– you should have a defined schedule, a date or at least a period in which the goal has to be met.


A few examples of good goals
This way, a Smart show goal could be: "I want to win the 1m15 class at Randomcity Horse Show the 2nd weekend of April". It's easy to understand, easily measured, ambitious but realistic and it has a date.
For a technical goal, it could be: "I want to keep the right canter for the whole course, and have good approaches.". What's good about this goal is that, thanks to Equisense Motion, measuring your goal is easy.
So, what's your goal?
"Starting off a show season with no set goal is a random approach and therefore risky." Patrick Galloux
💡My little advice
If I can give you a little tip: write down your goals somewhere, in a strategic place so you always see them before you ride. The idea is to keep them in mind to avoid doing the same thing we all do with New Year's resolutions. You sincerely think you're going to do it and a few months later…
While you wait for us to develop the goal-setting feature in the mobile App Equisense, you can for instance create an activity with this goal, and set it to a future date. This goal will stay on top of your session screen, so you never forget what you're striving for.
You can also try to rate your success on these goals in percentage rather than a binary "succeeded" or "failed". It's more motivating to think of it as "I met my goal at 75%" rather than to simply say you failed. There's always a positive impact, even if you don't 100% meet your goal.
How to handle stress #2 – Self-assess to reduce psychological stress
Psychological stress, or "mental fear", is a human-specific fear. In this scenario, it's not the fear of the accident that could take place, but rather stage fright or vulnerability. It's often linked to a low self-esteem of self-confidence. And that happens often during shows
This psychological stress can easily be estimated with this little self-assessment formula:
Psychological stress = Current level with my horse (/5) – Difficulty of the show (/5)
Example: If you believe your level with your horse is 3/5 and the difficulty level of the show you're going at is 4/5 then your psychological stress is around -1.
We estimate a good psychological stress to be between -1 and +1.
If you're below -2 or -3, then there's too much stress. You're probably registered in a class that's too hard for you.
If you're above +2 or +3 , it's too easy, not motivating enough.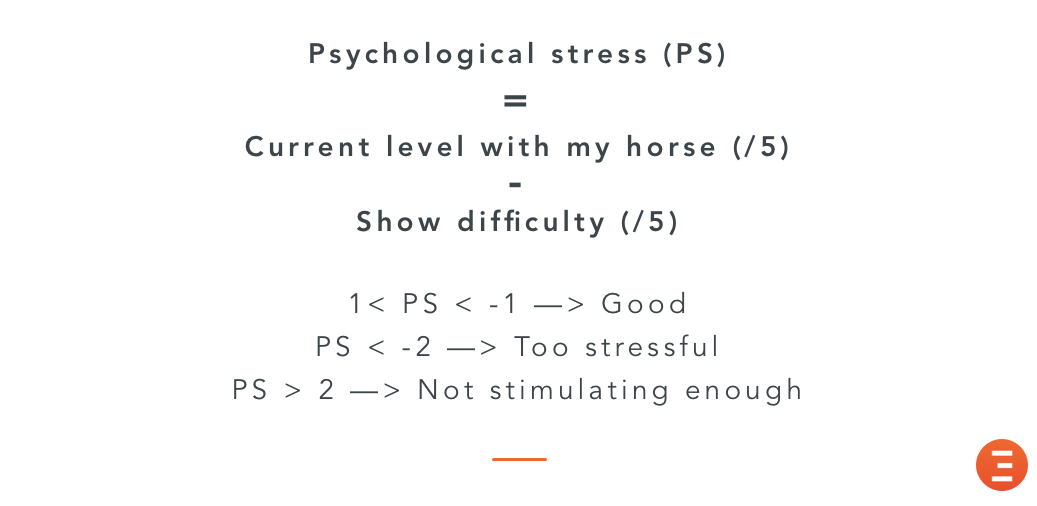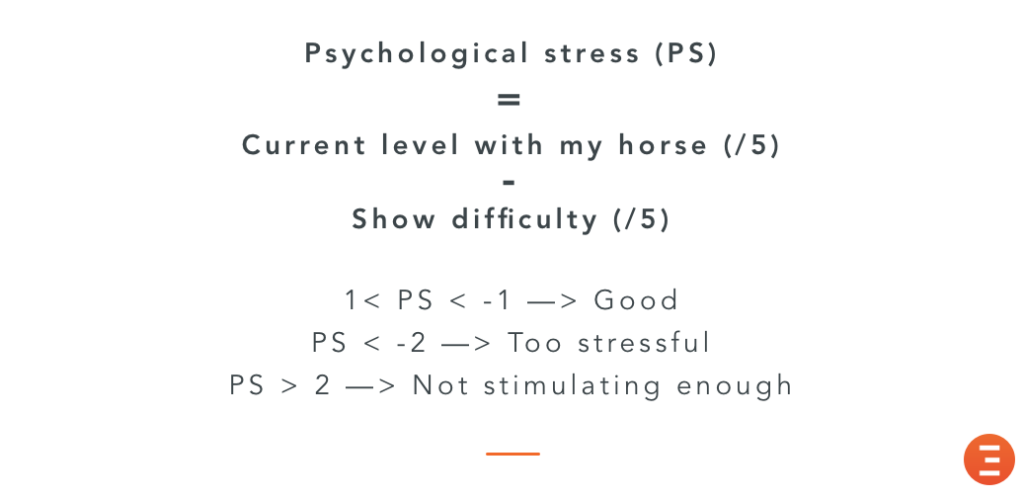 This formula is based on self-assessment. But did you know this: we often underestimate our level, and overestimate the level of the class. That's what we call distorting cognition.
Training to self-assess yourself regularly is interesting to lower psychological stress! Indeed, when you learn to self-assess, you learn to be more impartial about what you do, so you enter the right classes, so you get an idea psychological stress!
Ask yourself these questions often: "What do I really master?" "What do I still have to learn?" "What are my limits?" etc. The clearer you can see yourself, the more relaxed you'll be before your shows 🙂
💡Equisense Motion and Motion S: your allies for objectivity
When you use Equisense Motion or Motion S for your daily rides and your show rides, you can only be objective in your analysis.
Indeed, if you believe you have a regular cadence during your course, Motion will tell you with the combination analysis! This will help you make sure you analysed it well… and realize if you need to question yourself a bit more!


How to handle stress #3 – Use mental visualisation 💭
Let's start with a little test. In this video, you simply need to count the number of passes between the people dressed in white. That's it. Be careful: it's fast.
Suspense ….
As it is explained in the video, the right number of passes is 15 (I always see 16…). And maybe like I did the first time I watched it, you didn't see the gorilla in the middle of the screen…
If that's the case, this means you're able to ignore part of the information when you're focused. If you saw the right number of passes and saw the gorilla, you have a divided attention.
Ignoring part of this information isn't too good (especially for show jumping or hunter), when you're for instance focused too much on the approach, and you forget other things like balance, rhythm…


To avoid this, you can use mental visualisation techniques. It's important to visualise your course with different points of view and integrating the issues you can have like little things going wrong during the course.
You can mentally live your course in different perspectives:
either with an

external perspective

(to solve course track problems)

either with an

internal perspective

(as if you were on your horse's back)

either with a kinesthetic perspective (by feeling the sensations)
Using these different perspectives, you can imagine your course, solve the problems you might have, and be more efficient when you actually compete!
How to handle stress #4 – Do some cardiac coherence exercises
So far, we've talked a lot about mental or psychological stress, but not too much about physical stress.
Reminder: consequences and manifestations of physical stress are numerous. Heart rate increase, respiratory rate increase, hypervigilance, tetany, shaking, apnoea, memory loss, nausea, emesis, narrowing of the visual field, grasp reflex (contraction in the hands), foetal reflex (curling up into a ball, or having a harder time standing straight)…
The problem is that these manifestations are heavily felt by horses, notably shaking, grasp reflex and foetal reflex. It's really impairing your abilities during a show.
One of the solutions is to do relaxation sessions, cardiac coherence exercises, gradual muscle relaxation, or hands and shoulders relaxation!
For those who don't know about it, cardiac coherence consists in controlling your heart rate via your breathing. Inhale for 5s then exhale for 5s and this for 6 minutes. When you control your breathing, your heart rate will decrease and the stress will as well! Whether it is cardiac coherence or something else, by establishing a ritual that allows you to relax in any situation, you'll be at your best!
💡My little advice
I actually use 2 methods which work quite well. Here they are:
1- Go to your happy place
Remember minute by minute a happy moment, like a trip for instance! I remember my holiday weeks spent in London and Montréal, remembering every detail every minute of every day. This helps me drive out my negative train of thoughts!
Try it, you'll see!
2- The Petit Bambou app
You can download the Petit Bambou app, it's free and it contains audio track to help you relax and do cardiac coherence! Their features are really great.
At Equisense, we like this app a lot! You can use it during your shows, right, before you start riding for instance.
Hunter, probably the best discipline to learn how to handle your stress
A few reminders
For those of you who don't know Hunter (very) well, it's an "equestrian discipline which consists in going over a course with greatest harmony possible".
In France, Hunter has 2 categories: Hunter Equitation and Hunter Style. The last one only evaluates the horse, its conformation, its gaits, its attitude and how it jumps.
For Hunter Equitation, the rider will be judged on their riding abilities and how they control their horse in any circumstance. So it's not only about being clear on time! Actually, there's no clock in Hunter. The rider will face technical difficulties under the eye of a jury.
The different course types in Hunter Equitation
In Hunter Equitation there are a few types of course, and amongst them compulsory figures and controllability:
Compulsory figures
This type of course evaluates how the horse is trained and how much control the rider has. The rider can be asked to be at any of the 3 classical gaits with transitions between fences, halts, lead changes, bounce jumps, striding, etc.
Controllability
This type of course is at canter only and evaluates the rider's "sense of direction". Amongst the difficulties the rider might encounter, there will be jumps with an angle, sharp turns, skinnies, etc.
Amongst the other types of courses you can find the Grand Prix, which takes the same form as its showjumping counterpart, but the rider will be judged on the cadence regularity, striding, aid discretion, etc. You can also find a mix of compulsory figures and controllability, the derby, and the Hunter/Showjumping blend where you'll have to do the same course twice: a first time according to the Hunter rules, and a second time with the showjumping rules.
Hunter brings a great harmony between horse and rider, aid discretion and a perfect mastery in any situation. And wouldn't that be useful for any showjumper??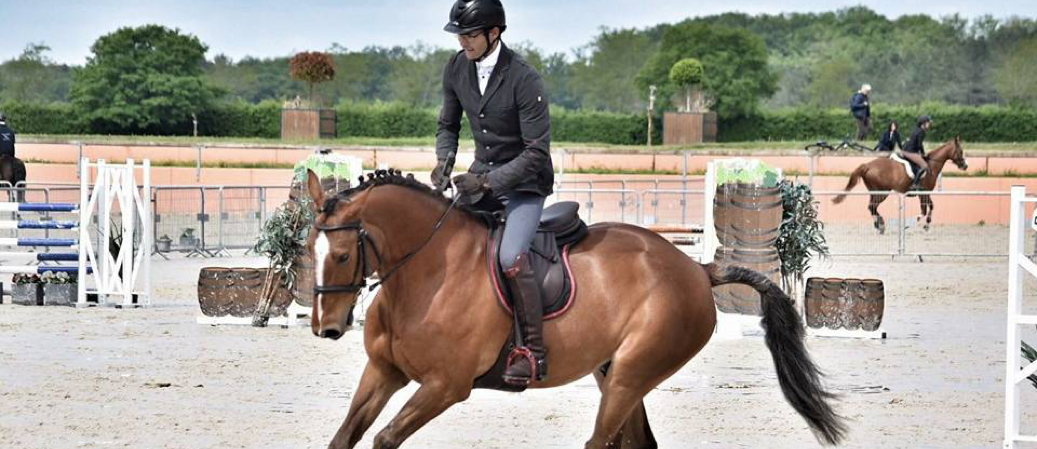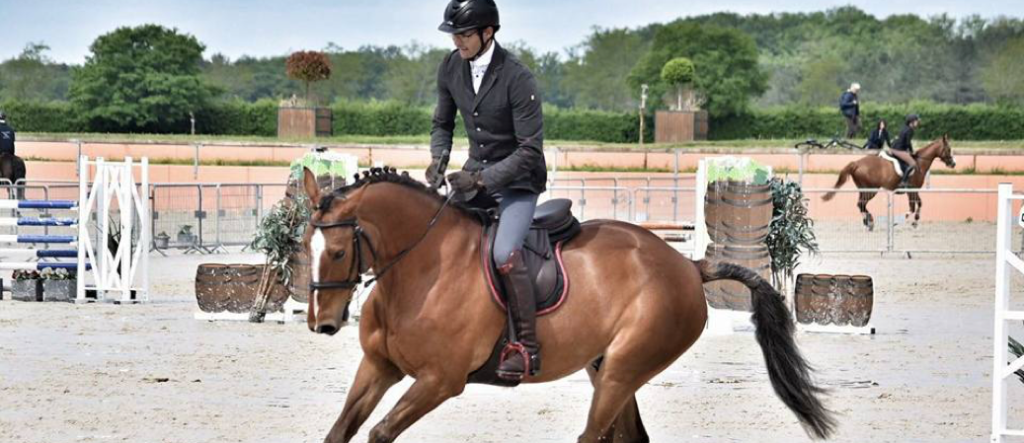 How will hunter help the rider be more relaxed? 
Actually, this discipline forces you to set the two types of goals, to be able to self-assess and mentally visualise your course, so 3 out of the 4 techniques I spoke of earlier.
Indeed, in Hunter, you have to have a technical and a show goal. Or rather, it's impossible in Hunter to have a show goals without a technical goal.
The high technical level of the discipline and its scoring system won't allow you to meet your show goal (winning) without thinking about technique. To win in Hunter you need:
a regular canter

great approaches

precise transitions

etc.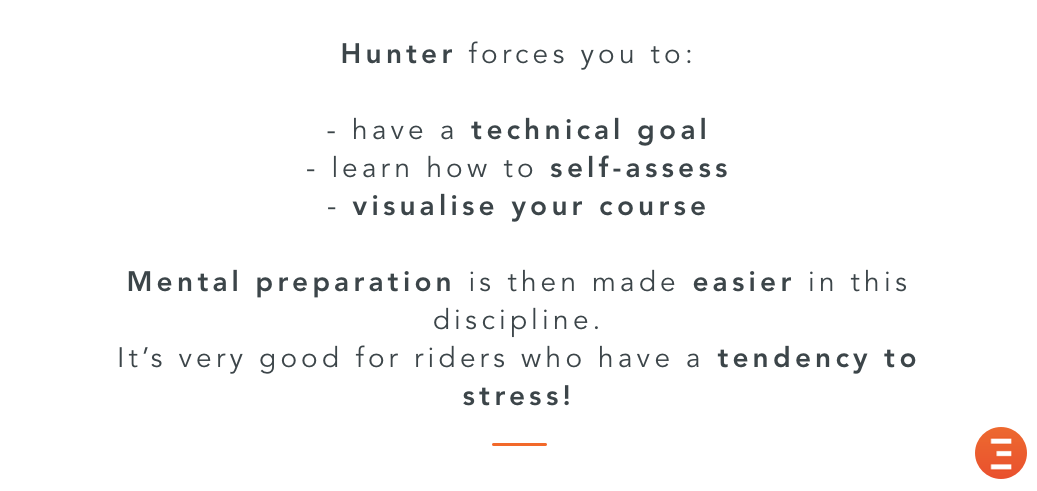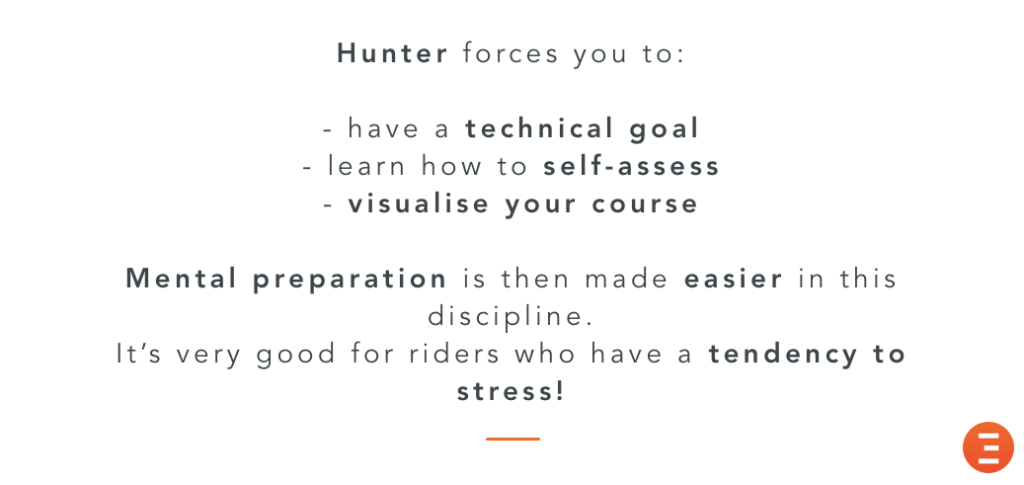 Without this, it's impossible to win, or in any case to reach your show goal. And this forces you to train more seriously and better, which induces a better mental preparation! As I was saying earlier, if your training is good, you'll be more relaxed and less stressed for the shows to come!
Also, Hunter Equitation courses are really good to learn how to self-assess. Indeed, you have to know what you're capable of to enter the right class. For instance, you can't enter a course that demands that you transition from canter to trot and jump at trot in less than 3 strides if your horse runs for the fences…
This makes you enter classes with the right technical level for you, so you know you can do everything they ask of you and you can say goodbye to the crippling stress before your turn!
Lastly, given the technical difficulty of the courses in Hunter, the numerous rating criteria and the compulsory steps between the fences, it's important to be able to mentally visualise your course to actually remember it well. You then start riding while knowing exactly what to do, and this makes it easier to relax!
👉 In short
If you're stressed during shows, here are 5 advice to help:
Set a show and a technical goal – this will help you stay motivated and improve your training sessions, and the result will be a global improvement!
Learn how to self-assess regularly to enter classes which corresponds to your technical level.
Mentally visualise your course and anticipate everything that could go wrong.
Do a little relaxation and cardiac coherence before you start riding.
Enter Hunter classes!
I hope this helps,
See you soon for another article,
Camille Saute
Equisense co-founder