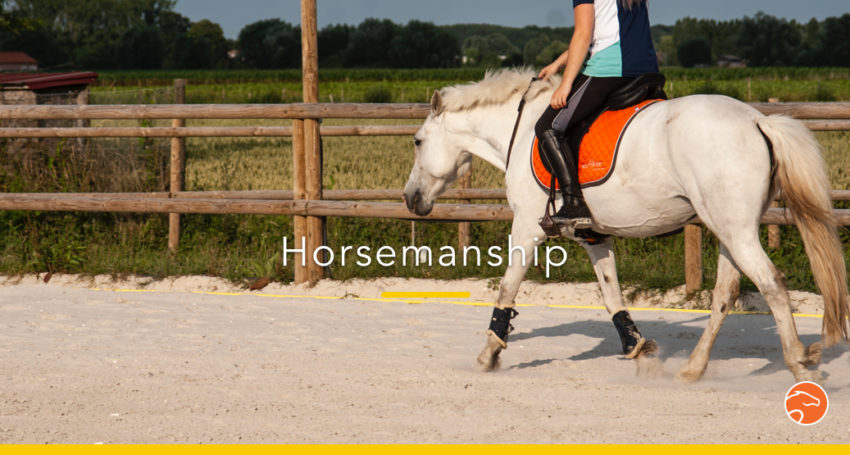 10 Horsemanship Ethology Principles all Riders Should Know
10 Horsemanship Ethology Principles all Riders Should Know
Are you looking for great new methods to teach your horse new things? Good, I've got what you need 😉 Let's have a look at what we call horsemanship ethology.
I've decided to talk about this because I have found out about the benefits of horsemanship a bit late and because it has revolutionized my approach and the relationship between me and my mare. Horsemanship allows me to understand what was happening in her head and gives me an insight into her reactions, motivations and misunderstandings. It then allows me to adapt my reactions and to teach her new things much quicker! Magic!! 🙂
"I am a showjumper, horsemanship isn't needed and does not concern me at all! »
WRONG, WRONG, WRONG!!
All that we do with our horses is teach them new things, whatever the discipline and age of the horse. Whether it's about responding to your legs, moving forward or turning to approach an obstacle, everything is a matter of teaching and learning. Therefore, of horsemanship.
Even if you are not the one teaching your horse, and even if you just "do not practice horsemanship", it is important to know HOW to teach and understand how horses learn. If you do not know how to ask your horse things correctly, you will not get the requested answers, and it can quickly escalate. This is how we end up punishing a horse who simply does not understand what is asked from him. This leads to the creation of very shy or dangerous horses!
As riders, we make a lot of mistakes (sorry…), but most of the time in an unconscious and involuntary way. This due to lack of knowledge. This kind of knowledge deserves to be more widely spread. If you have some time, I advise you to take a look at Andy Booth's demonstration, one of the pillars of horsemanship ethology. Hopefully, this will convince you:
Operant Conditioning: A Reinforcements Story – How it Links with Horsemanship
Operant conditioning is the act of teaching your horse to consciously associate with one or more orders an action/response from them. There are two main methods. We call them "reinforcements", in this case, positive reinforcement and negative reinforcement.
Positive and negative do not mean "good" or "bad" but rather "by addition" or "by subtraction". We must teach horses using a "universal" language namely "it's good/it feels good" and "it's not good/it does not feel good. "
So, when teaching something to your horse, there are two main possibilities:
Try to make them do a certain action and reward as soon as done: "When I tip the cone over I find a carrot underneath = it's good! I will start again to see if there is not another one "→ This is positive reinforcement (by adding a reward)
Try to make them do a certain action by putting them in an uncomfortable situation until they do the action. We then remove the discomfort when they have performed the action we required: "When she squeezes her legs on my ribs it does not feel good, it's not good, but if I start trotting at that same moment she stops squeezing her legs, so it's good! "→ This is negative reinforcement (by subtracting discomfort)
You can quickly realize that classic riding is based mainly on negative reinforcements! We squeeze our legs to go forward, we close our fingers to stop, we pull on the lunge, we put draw reins or elastics to get the horse down… But negative reinforcement can sometimes be stressful for your horse, especially if they do not understand what is expected of them. However, with other species of animals, we use a lot more positive reinforcements, especially with a food reward (it is the most effective).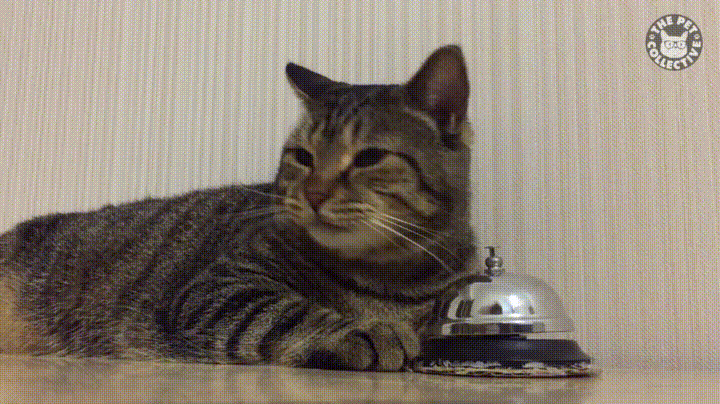 Another cool thing you can do through to the theory of learning and so through to horsemanship: Teach your horse to ask for a rug when they're getting cold!
What About Punishment in all this?
Punishment is also part of operant conditioning. One punishes when one wants to "decrease the probability of occurrence or the intensity of a behaviour" [2]
Punishments can also be "positive" or "negative":
Take out a nice stimulus to punish an unpleasant behaviour: "When it's time for food and I scratch on the floor, they do not give me food, it's not good!" » → negative punishment (by subtraction )
Add an unpleasant stimulus to punish an unpleasant behaviour: "When I bight, I get a slap on the nose, it's not good!" » → positive punishment (by addition)
The problem of punishment, especially of positive punishment, is it a timing problem. If the horse does not make the association between his action and the punishment, he might not understand. Punishment is not used well most of the time. [1]
Take the typical example of a horse that refuses to jump. The horse stops and then the rider is unbalanced in the saddle, they then canter off and punishes their horse with a whip. This is the typical case of a horse that will be punished … for responding to a canter departure! The time is very long (several seconds, it is very long) between the unwanted behaviour (the jumping refusal) and the punishment (whip). Your horse will not understand and instead just be put in a very stressful situation.
In these cases, it is better not to punish.
Punishment can also be involuntary. This can happen when you accidentally pull your horse's mouth when jumping. Your horse is punished for jumping and over time, it is possible that they will grow to resent jumping.
If you really need to punish your horse, think about being very fast after the stimulus. Then return to calm very quickly so that the punishment does not become a fear towards you. Please, do not over punish. If you do not have time to punish your horse (unbalanced rider following a stop), it is better not to do anything, go over the fence, and reinforce positively at the end.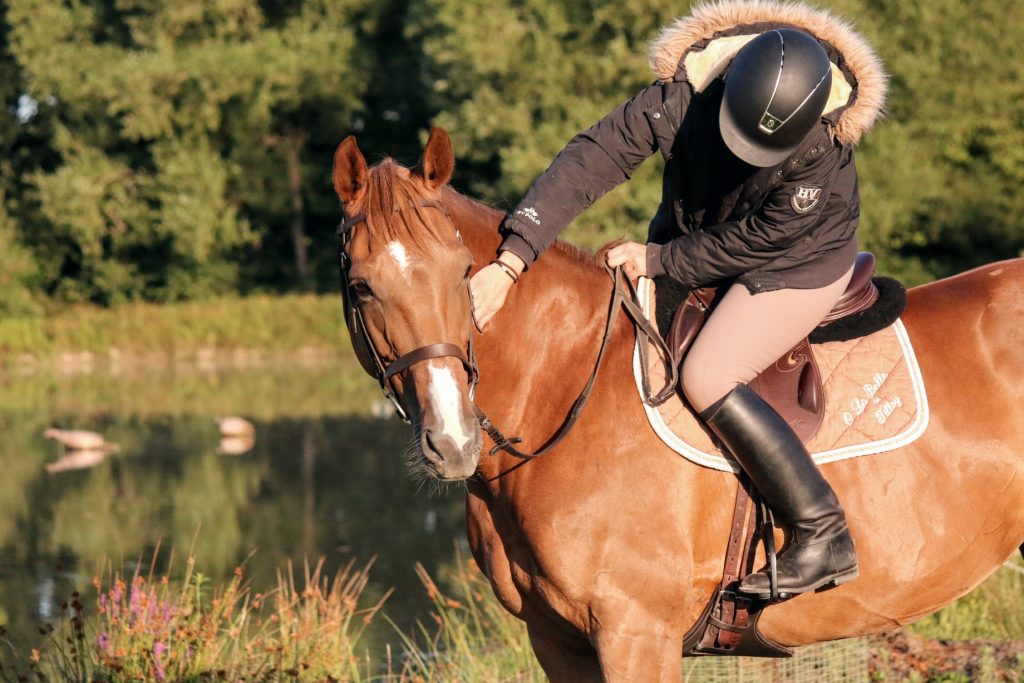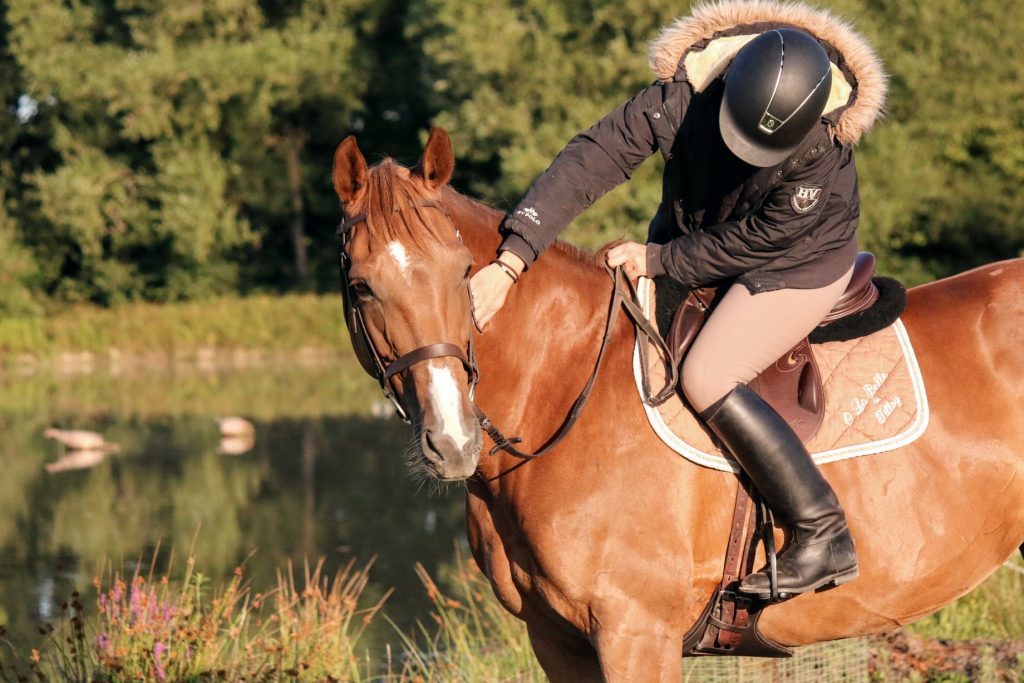 It's All About Timing …
Whether it's about a punishment or about simple learning, the notion of timing is crucial. Too late is … too late …
Regardless of the reinforcement type, if you wait too long between your horse's reaction and the reinforcement or punishment, they will not be able to make the association properly. If you get angry 40 minutes after the stupidity, it is useless! But without going into judging, just imagine squeezing your legs in order to go forward, if your horse starts trotting as desired but you do not loosen your legs, they will not or may not understand what you expected from them. On the other hand, if your horse tips the cone over, as expected and you reward them with a carrot 2 hours later, they are not likely to associate them.
It seems pretty obvious on paper with these examples, but in fact, most riders do not respect this timing (unconsciously most of the time). We always keep our legs tight (so we do not release the unpleasant stimulus when the horse responds), give micro leg pushes at each strides without realizing it, too much body pressure, fingers remaining tight on the reins applying a constant tension … All these are actions that one does without realizing it and which can confuse the horse as well as its learning behavior due to its wrong timing.
If we could systematically release the leg pressure when your horse moves forward, we probably would not need to do leg lessons … 😉
The 10 Must Know Horsemanship Principles
Finally, let's talk about these 10 ISES fundamental principles (International Society for Equitation Science). These principles were established by researchers specialized in ethology. They will help you improve your sessions in order to have a well trained horse, obedient and relaxed in the mind [2].
# 1 – Train While Respecting your Horse's Behavior and Cognitive Abilities
Not respecting your horse's nature and preventing them from expressing behaviours specific to their species is a source of significant stress and a warning. This is the case of horses who are isolated from any form of social contact. Remember, those so-called "bad horses" are often isolated horses … And isolated horses will not learn properly. 
# 2 – Apply the Learning Theory Correctly
… by respecting the different learning types, by using positive and negative reinforcement correctly, by not forcing if it is not necessary …
# 3 – Establish Easily Distinguishable Signals
Ask yourself this simple question: Was my request clear and distinct? Could my horse understand it? What did I really ask them? Most of the time, a horse that does not do what was expected of them is a horse that did not understand the request and not a horse that does not want to do it.
# 4 – Gradually Shape Responses and Movements
One thing at the time!! "Ask a lot, settle for little, reward a lot" If you want to teach your horse how to half pass, do not make them do it twice before rewarding. If they deliver a few correct strides reward them straight away.
# 5 – Work Individually on all the Responses
Applying 18 signals at the same time will be confusing for your horse. It can even cause desensitization. When asking something from your horse, break down your signals into parts so that they can take time and understand better.
# 6 – Teach Them to React to Those Signals
Each signal must correspond to an expected reaction.
# 7 – Instill Habits
The same signals must be applied at the same place, in the same position and in the same context. If your horse has learned to canter when saying « canter » when lunging, do not expect them to canter when you just start running beside them with them on a lead and do not punish them for not answering…
# 8 – Look for the Persistence of Answers
This is the principle of the "horse that holds himself ". Your horse must be autonomous. You do not have to ask for the same thing every 3 seconds for the behaviour to last. If you squeeze your legs to trot, your horse must stay at a trot until you ask him to walk again.
# 9 – Avoid and Dissociate Fear Reactions
"Any training method that deliberately seeks to trigger fear reactions from your horse is to be banned because fear inhibits learning and [greatly] affects your horse's well-being."
All is said.
# 10 – Work When your Horse is Calm
Working a stressed horse makes no sense and is not interesting as they will not be able to understand what they are doing right or wrong.
These were the main ten horsemanship principles that should be known by all riders. Learning is fundamental regarding our relationship with horses. Bad reactions from the rider, whether wanted or not, can only lead to stress and will harm your horse.
As with children, learning is never forced. This is how you create complications. 😊