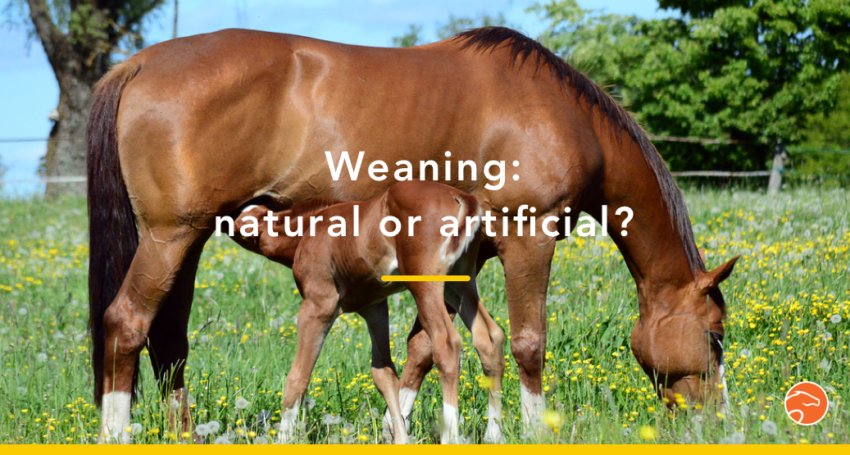 Foal weaning, a bogus good idea?
Foal weaning, a bogus good idea?
What if we were wrong to isolate the mare from her foal? Could we imagine for a moment leaving artificial weaning behind? Let's see how we could make this moment easier for both the mare and the foal.
Huge thanks to Séverine Henry, animal ethology researcher at the Université de Rennes 1 and author of a lot of publications on the subject for helping me write this article.
Foal weaning: a huge stress inducing moment for the mother and the foal 😧
In a lot of stud farms, the foals are separated from their mothers when they are about 6-months-old. Sometimes even sooner. Oftentimes, this separation isn't prepared.
It's also a moment in which stereotypies (stable vices) appear. The numbers are striking:
10%

of foals develop

oral stereotypies in the month following the weaning
30%

of foals eat the wood in their stall

3 months after the weaning
10%

of foals develop

stereotypies like weaving in the 10 months following the weaning

But the reasons why we usually wean the foal around 6 months are based more on habits and tradition, maybe even fake beliefs. Indeed, in the horse's natural living conditions, the situation is different…
What happens in the wild? 🧐
When the horse lives in natural living conditions, the weaning happens when the foal is 9 to 11-months-old. It often corresponds to the moment in which the mare is going to have her next foal. By the way, in natural living conditions, the weaning isn't a clear "break up" between the mother and the foal. The foal will simply cease to suckle 🍼. It'll remain next to its mother for a few years.
This way, the foal's weaning only happens on the nutritional front, not the relational one!

In fact, the foal's dietary independence happens gradually. The foal suckles less and less (once every 2 hours from 8 months) and eats more and more solid food. The mare can show rejection signs when the foal tries to suckle, but some of them allow them to continue.
Relationship wise, the foal stays away from its mother more and more (60 to 80% of the time at more than 5m from its mother). Still, before the foal leaves the family group when it gets to 2-3-years-old, it will remain close to its mother. Indeed, the mare remains its favorite social partner, and a safe element in the group. At 1-year-old, the young horse spends more than ⅔ of its time at less than 45m from its mother, and she stays one of her favorite fellow horses in the group!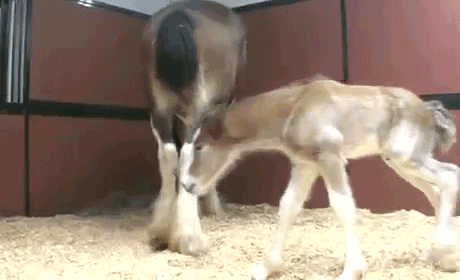 The age the foal is during the weaning depends on several factors
Despite the average weaning age in natural living conditions is of about 10 months old, there exists a lot of variations:
if the mare has

2 foals in a row

, for the second one the weaning will happen around 8.5 months.

if the mare

isn't expecting right away

or

loses her new foal

,

she'll let the foal suckle longer

(until

18 months at least

) (#mamasboy)
What's for sure is that in natural living conditions, weaning (so when the foal stop suckling) at 6 months almost never happens (unless there are special circumstances).
Is natural weaning a viable practice for "domesticated" horses?
So you're probably thinking "YES BUT… with domesticated horses, for sport horses, it's not possible".
The reasons we wean the horse early
Indeed, it seems like artificial weaning happens rather as a "safety measure" or because we're used to it.
We often artificially wean because of these reasons:
making sure the mare doesn't lose too much weight, especially if she's covered quickly after
making sure the foal eats enough solid food without the mother interfering
so the foal is sold quickly
to get the mare back under saddle quickly
to handle the foal in an easier way
to keep the foal from covering its mother or another mare if its sexually premature (yes, it can happen…)🤢
Possible solutions to switch to natural weaning
Switching to natural weaning doesn't seem undoable, even for sport horses. It's true that you have to make certain changes, for instance installing selective feeders, leaving forage in big quantities 24/7 to make sure the mare isn't losing weight, neuter the foal if necessary (depending on its behavior)…
There are a lot of things to switch around for the foal's education as well. It's important to use the mare a lot more to show the foals how to react. This way, some breeders start their mare back under saddle with the foal!
Testimony from a breeder using a softer weaning method
Sophie Bolze raises Connemara ponies in the stud farm "L'élevage Aluinn", a few kilometers south of Paris. Her ponies are renowned because, amongst others, Podeenagh Aluinn was twice medalled at the European Championships in eventing, and Twinkle Toe Aluinn was a gold medallist in show jumping during the Nation's Cup in Fontainebleau 🥇🏆.
"I've been doing this type of gradual weaning with my horses for a while. I don't suddenly cut off the foal and the mare at 6 months. I think it's too stress inducing for everyone. What I do is that I progressively get the foal used to being away from its mother. For instance, I put them both in stalls next to each other for a few minutes everyday. The separation between the two stalls allows them to touch and smell each other. I also put the foals in the paddock for the entire day without their mothers. They are however accompanied by other mares or old horses who will become their companions until they are broken in.

The foal suckle until very late, even if the mares are expecting for the year. So yes, it costs more to feed them with concentrates and hay because the mare need a lot of food to handle both the suckling and the gestation. But it's great for me because when I proceed like this, my foals don't have any health issues!

They learn with their mothers

For the first "lessons", I use the mother a lot. Like this, I teach the foals how to walk on the lunge, get showers, go into a lake, discover the arena, go over the liverpool… Everything is done with the mare. It's very efficient, and I gain a lot of time when I break them in."

Sophie Bolze, breeder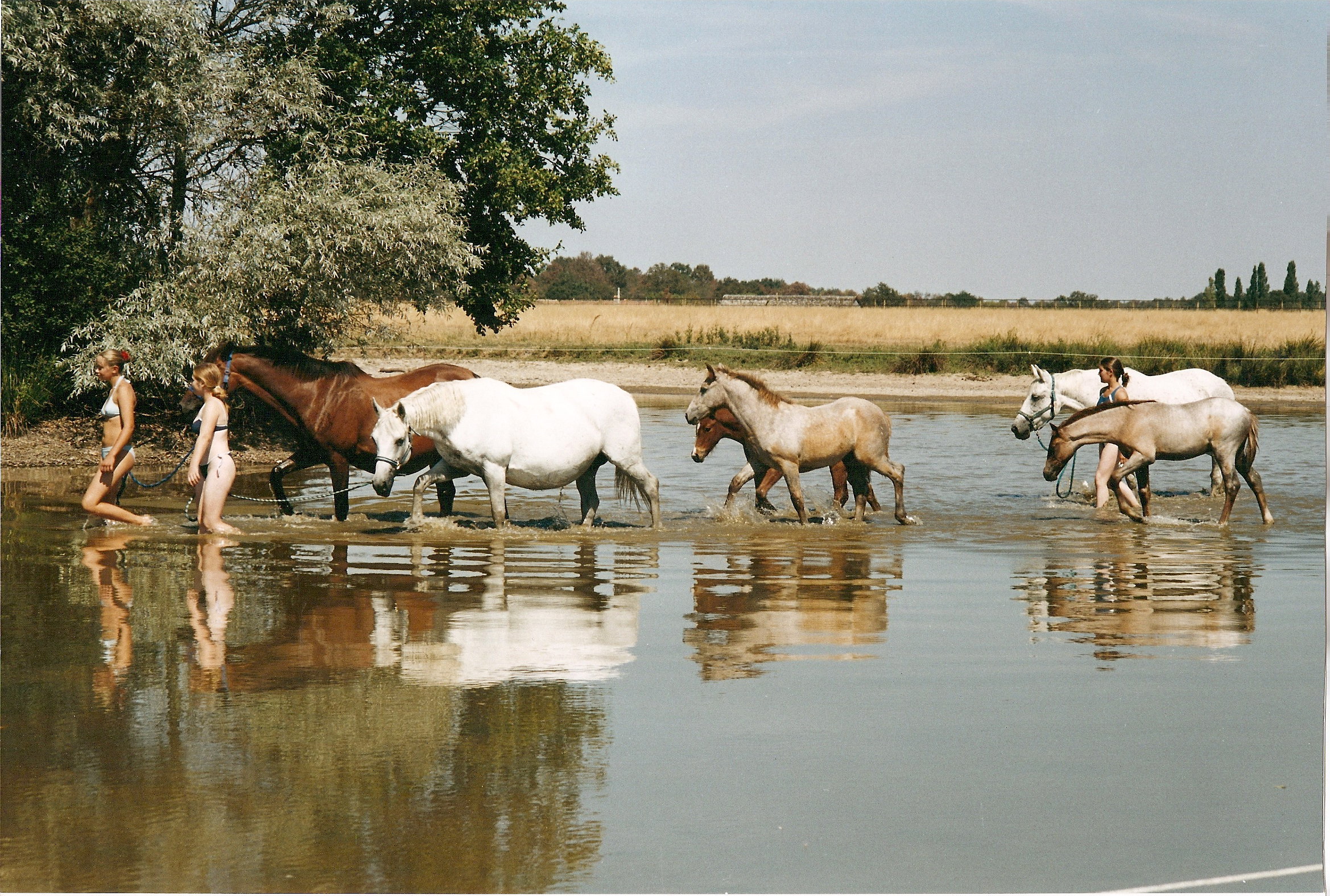 You can find Sophie Bolze on the Facebook page of the stud farm → Elevage Aluinn and also on her website → http://www.elevagealuinn.com
However, if you think natural weaning is impossible for you, there are other methods you can try to make weaning less brutal. Here they are.
4 ways to make weaning less brutal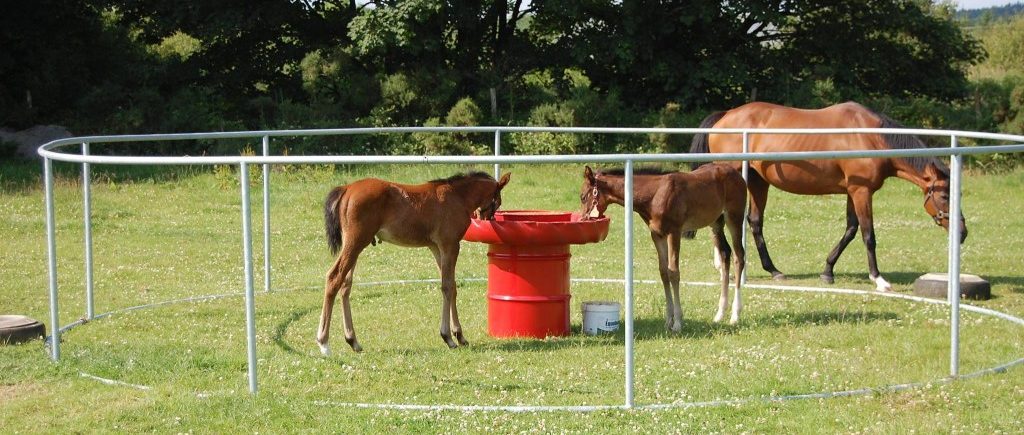 #1 – Dietary transition 🍔 / 🥕
I was surprised when I read this but yes, the foal's diet has an impact on the stress it goes through when weaning.
"Nicol et al. (2005) showed that foals fed with a lot of fat and fibers were calmer right after weaning than foals fed with a lot of sugars and starch." (Lansade et al., 2016)
So make sure your foal has enough forage before weaning! One of the solutions for this consists in selective feeders. This way, the foals are independent and also have access to forage.

#2 – Group weaning
If you are lucky enough to have several foals at the same time, the best thing is to wean them at the same time. If you can leave them in a paddock instead of in stalls, it's even better.
Foals staying in an individual stall have a lot more behavioral issues (kicking the walls, licking or biting the walls, rearing…). But the foals staying together outside can have a better activity repartition.
In fact, in the paddock, the environment is much more diverse, they can express a larger variety of behaviors and are less likely to fall into stable vices. That seems obvious, but it's important to mention

Watch out for aggressive behavior! 🥊
By the way, in a stressful situation such as artificial weaning, aggressiveness isn't unheard of between youngsters (at least temporarily). It's important to give them space so they can get away from their "grouchy" friend and avoid injuries.
If you have no choice but to leave them in stalls but you can pair them, keep watch of any aggressive behavior that might appear. It's better to let the foals get to know each other before weaning.
#3 – Progressively removing the mothers
In the case of foal-mare herds, removing the mares one by one (one per day) is actually proven to be less stressful than removing everyone at once.

Ok, I admit, when you only have one foal per year… it's complicated! By the way, in France for 2016-2017, for 30 785 breeders, 80% have one or two mares!
#4 – Introducing foals to new adults 👨👵👶
You can also introduce new adults to the foals! These adults will allow the group of foals to mimic their more "normal" behaviors 🙂
Indeed, the presence of adults decreases the stress induced by weaning compared to foals weaned in groups without adults. They neigh less and for a shorter period of time. Their salivary cortisol levels are lower after the stress of maternal separation. There are no attempts to suckle directed to other youngsters and no diminution of the time spent eating after weaning.
Also, it allows the diminution of aberrant behavior patterns and maintain a good social cohesion between the young horses long term.
In fact, the presence of more experienced adults channels the young horse's behavior. The lack of adults in the foal's environment could be responsible from the high aggression levels observed four young domestic horses compared to foals living in more natural conditions, which means in heterogeneous groups with young and older horses.
A word on gradual weaning
Several studies digged deeper on gradual weaning, which consists in separating slowly the mother and the foal (from several minutes to a few hours each day) until they reach a full separation.
However, the results of these studies are inconsistent on several aspects, and we lack data to truly compare the studies.
🔎 On the same topic: How to Break in Your Horse in 4 Weeks
To conclude
In natural living conditions, weaning is a lot different from what happens in a stud farm. Weaning isn't a sudden separation but when the foal stops suckling while staying close to its mother. The foals gradually get further away from their mothers and stop suckling when they are about 10-months-old. Until 2-3-years-old, when they will start a new family group, they stay close to their mothers which are their favorite friend.
Artificial weaning is very stress inducing for both foals and mares. Softer solutions exist, like pair weaning or introduction of new adults in the group, and in any case with a dietary transition.
In this era in which we're trying our best to improve our horse's quality of life, natural weaning seems like the best solution!
See you soon for another article,
Camille Saute
R&D Leader at Equisense
---
Bibliography
Bourjade, M., Moulinot, M., Henry, S., Richard, M. A., & Hausberger, M. (2006). Effet de la présence d'adultes sur le développement du comportement des jeunes chevaux domestiques élevés en groupe. 32ème Journée de La Recherche Equine, 61–69. Paris, France.
Bourjade, M., Moulinot, M., Henry, S., Richard-Yris, M. A., & Hausberger, M. (2008). Could adults be used to improve social skills of young horses, Equus caballus? Developmental Psychobiology, 50(4), 408–417. https://doi.org/10.1002/dev.20301
Foury, A., Lansade, L., Vidament, M., Reigner, F., & Mach, N. (2017). Effets du stress induit par le sevrage sur les indicateurs biologiques et transcriptomiques du stress chez les équins : Analyse comparative d'un sevrage progressif et d'un sevrage brutal. 43ème Journée de La Recherche Equine, 155–158. Paris, France.
Fureix, C., Bourjade, M., Henry, S., Sankey, C., & Hausberger, M. (2012). Exploring aggression regulation in managed groups of horses Equus caballus. Applied Animal Behaviour Science, 138(3–4), 216–228. https://doi.org/10.1016/j.applanim.2012.02.009
Henry, S., Briefer, S., Richard-Yris, M. A., & Hausberger, M. (2006). Utilisation des influences sociales autour du sevrage. 32ème Journée d'Etude de La Recherche Equine, 79–86.
Henry, S., Zanella, A. J., Sankey, C., Richard-Yris, M. A., Marko, A., & Hausberger, M. (2012). Adults may be used to alleviate weaning stress in domestic foals (Equus caballus). Physiology and Behavior, 106(4), 428–438. https://doi.org/10.1016/j.physbeh.2012.02.025
Lansade, L., Lévy, F., Yvon, J.-M., Guettier, E., Reigner, F., Bouvet, G., … Vidament, M. (2016). Le sevrage : quelles sont les recommandations issues de la recherche équine ? 42ème Journée de La Recherche Equine, 87–93. Paris, France.
Henry, S., Sigurjónsdóttir, H., Klapper, A., Joubert, J., Montier, G., & Hausberger, M. (2018). Le sevrage spontané du poulain : facteurs de variation et impact sur le lien jument-poulain. 44ème Journée de La Recherche Equine, 4–13. Paris, France.
Lansade, L., & Marnay, L. (2017). Le sevrage du poulain, comment faire ? Retrieved May 21, 2018, from Equipaedia website: http://www.haras-nationaux.fr/information/accueil-equipaedia/croissance-et-education/education-du-poulain/le-sevrage-du-poulain-comment-faire.html
Nicol, C. J., Badnell-Waters, A. J., Bice, R., Kelland, A., Wilson, A. D., & Harris, P. A. (2005). The effects of diet and weaning method on the behaviour of young horses. Applied Animal Behaviour Science, 95(3–4), 205–221. https://doi.org/10.1016/j.applanim.2005.05.004
Réseau Economique de la Filière Equine. (2017). Annuaire ECUS – Tableau économique, statistique et graphique du cheval en France. Retrieved from http://www.ifce.fr/wp-content/uploads/2017/11/OESC-Annuaire-ECUS-2017.pdf