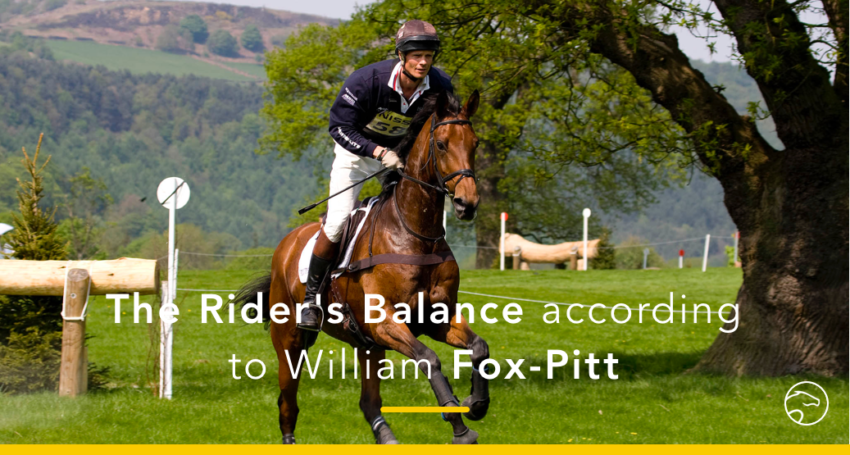 How I Improved my Riding Position Thanks to William Fox-Pitt
How I Improved my Riding Position Thanks to William Fox-Pitt
When working in Saumur (in January 2015) before starting the Equisense adventure, I had the chance to attend a "sport day" with William Fox-Pitt as speaker. The theme was "The Rider's Balance". I decided to write this article about it because since that day my equilibrium on horseback has changed radically, and I believe it can be helpful to all riders.
FYI, this whole day was filmed. You can find the videos divided in 3 groups at the bottom of this article.
Why is William Fox-Pitt is the perfect speaker for such topic?
First, for those who do not know him: William Fox-Pitt is an English eventing rider from. He was the first Briton to be world number 1 eventing rider. He has an impressive track record among which 4 Olympic medals. He is also the only rider to win 5 of the 6 CCI **** in the world (Burghley, Badminton, Luhmuhlen, Rolex Kentucky and Pau).
And it has the distinction of being very tall! he measures 1.98m for 76kg. A rather atypical profile. As he says himself, he was not very athletic and had a hard time finding a correct riding. He took some hard work to acquire this position and balance.
This was his battle. Besides, he says it himself: riders who come to ride with him get very bored. As long as they do not find a good balance and position, they do not train anything else.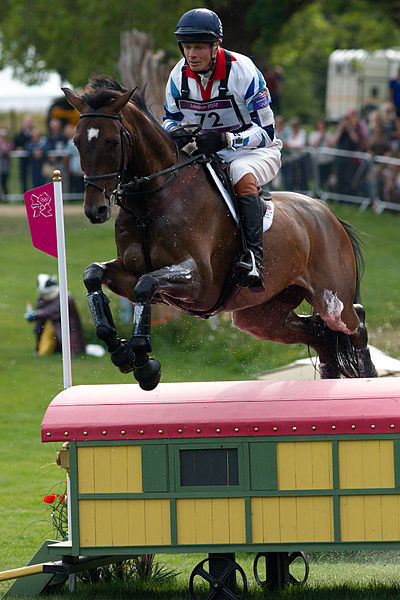 Why is it so important to have a good riding balance?
According to William Fox-Pitt, a bad riding balance (on the flat or when jumping) can be the cause of many problems. If the rider is not in balance, the horse will compensate for this imbalance. Thus, the horse will find itself unbalanced.
William Fox-Pitt links it with the mouth. If riders are forced to put harder bits on horses, it is mainly because they themselves are not balanced. Horses that have to carry their riders will consequently become stronger in the mouth.
How William Fox-Pitt makes us re consider our riding balance achievments
For him the right balance, whether on the flat or when jumping, is when the rider can keep the same position as when on the horse but on the ground without falling over. If he falls forwards or backwards, it means that his horse is compensating for this imbalance. So far everyone is pretty much in agreement.
Where he dropped my knowledge concerning standing position is when he recommended to climb with all joints bent, shoulders forward of the vertical and buttocks back. A bit like when squating.
He does not advocate a constant alignment of shoulders, pelvis and heels as I have learned.
"Often between obstacles in cross country, we see riders standing straight, very rigid, like police officers. They often sit back in the saddle at each stride, and they have legs that keep on moving "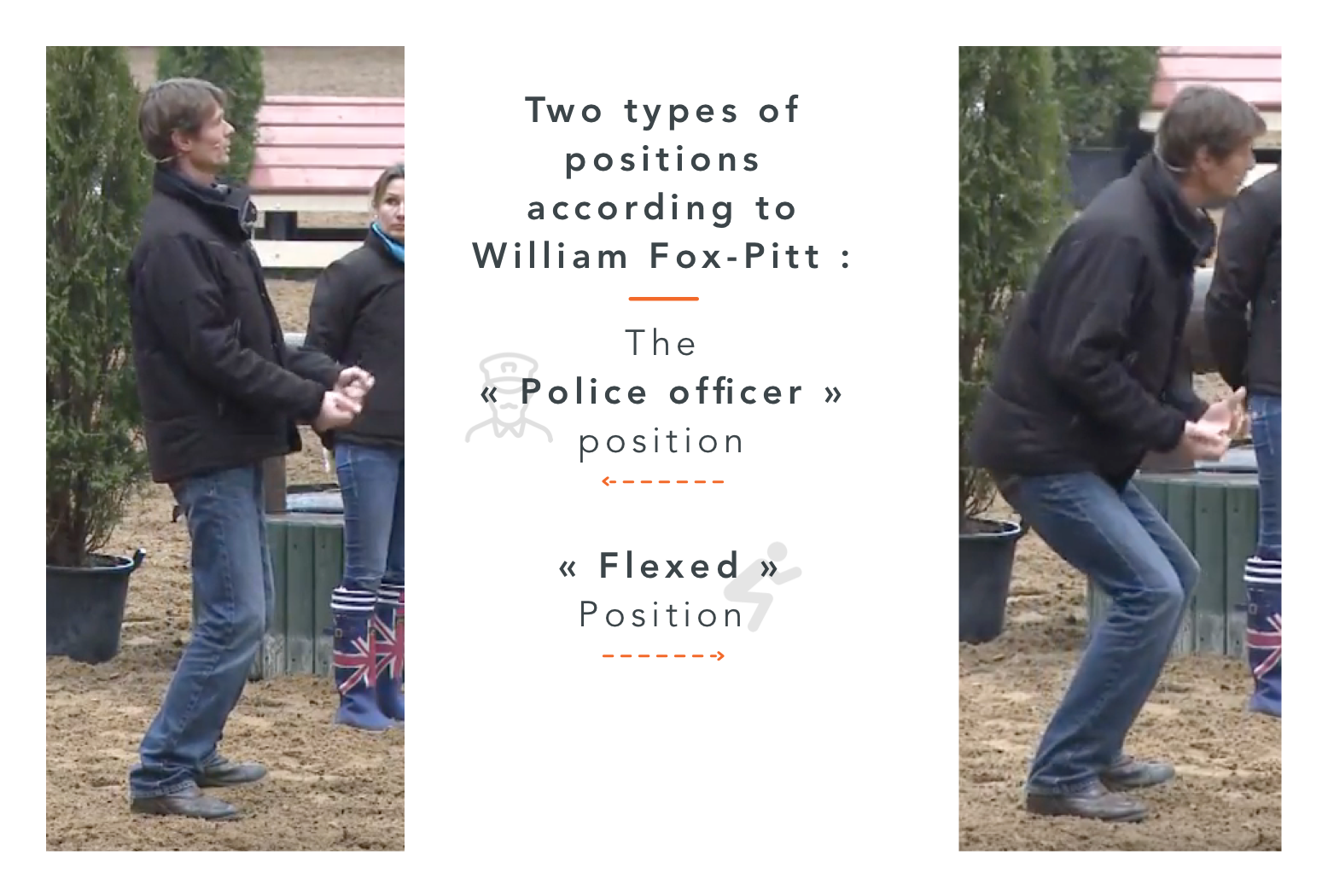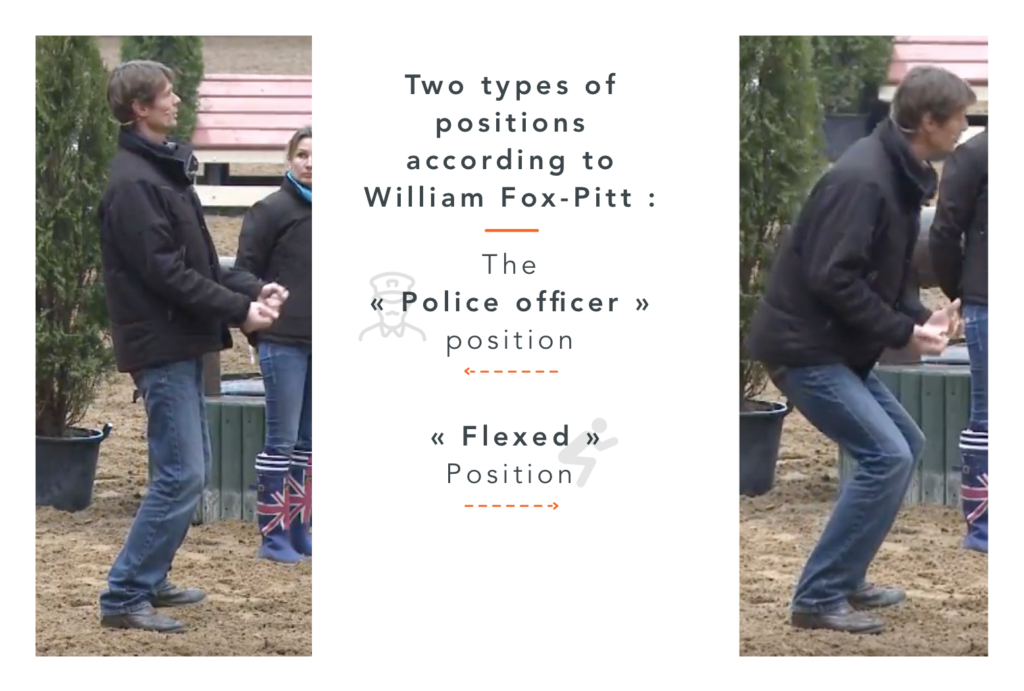 According to him, a flexed standing position is better for the horse. "Even if it's not fashionable". This position, which he systematically adopts between each fence, allows more mobility, flexibility, a greater capacity to dampen the movements and more independence of the rider compared to the horse.
And this position does not prevent him from straightening his back and sit back before the fence! He has more room for maneuver than in the"police officer" position as he calls it. Indeed, when one already has a straight back, it is more difficult to straighten before the fence.
Would William Fox-Pitt be a skier in another life?
In fact, when looking at William Fox-Pitt's jumping course or cross course, you will notice that he is riding a bit like a skier. His back moves very little compared to the ground while his legs dampen all horse movements. He is relatively independent of the horse. He does not undergo the movements.
Stirrups, the secret of success?
The solution to get to that: shorten your stirrups. The problem with long stirrups is that the rider does not have enough leeway to flex his joints while remaining above the saddle. As soon as the rider bends, he touches the saddle and thus impacts the horse.
Some riders will feel more vulnerable because they have less contact area with the horse, but according to him, shorter stirrups stabilize much more the lower leg and thus secure the rider more.
Let's talk biomechanics
First, small vocabulary precision. We will distinguish here "in balance" from "in standing position". Indeed, "to be in equilibrium" from a biomechanical point of view does not have the same meaning as from a rider's point of view. We will keep the term "in standing position" to indicate the position of the rider with the buttocks standing outside the saddle.
How does this position bring more stability to the rider?
In fact, what biomechanics teaches us is that we are in equilibrium when the vertical projection of the center of gravity is in the support polygon. What is the support polygon? It is the surface created between all the support points.
When standing, your support polygon is the surface of your two feet and the rectangle that connects them. To stay in balance it is necessary that the vertical which passes by your center of gravity, passes in this rectangle.


Having your back forward in a standing position does not prevent you from being in balance at all!
This position brings more stability than the position that I will call "classic" because bending more the joints will lower the center of gravity will. The lower the center of gravity, the more stable you are!
But I'm going to disturb my horse by standing like that!
Well, no. What annoys horses the most is not the position itself, it is rather the imbalance and the lack of amortization. Whether you have your back straight or leaning forward, if you are in balance (that is, your center of gravity passes in your support polygon), the horse should not feel any difference.
So you can have your back perfectly straight, but if you have your legs a little too far forward, you will not be "in balance". And there, your horse will have to make up the difference.
Ok, but it's not very pretty to look at is it?
I let you judge it yourself 😉
Cross country (very marked)
Show jumping
The revelation
The evening itself, I was so curious after seeing the 3 groups of riders struggling to adopt this new position that if felt like trying it out myself.
I put a small cavaletti (70cm) in the arena, I shortened my stirrups of 4 holes, and went on.
And there, it's like i wen back 15 years in the past, doing tricks while standing in the saddle and holding the mane, hands forward, with my back more inclined, buttocks back and with great flexibility.
I did the same thing at a canter then I did some jumps. I did about 50 jumps on my little cavaletti at all 3 gaits, letting my horse jump by herself. I was just concentrating on my position, my flexibility. After all, on a small cavaletti, even if the jumps are ugly, we do not care a bit. The goal was to feel the differences. Moreover, jumps from walk help enormously to understand the interest of this position.
Muscle aches everywhere…
And I must admit that it was a bit of a revelation. It's hard, I do not hide it from you. Thighs are important in order to cushion properly. I had aches. It's weird at first, but I've never had such a revelation. Everything became much easier. I was less "flustered", more flexible, more independent. And especially I had the feeling that I was disturbing my horse a lot less!
I do not pretend to have the same flexibility and ease as him while riding (it would be a little daring anyway). But having tested this position, I can tell you that it really helped my progress.
To conclude
What I want you to remember is not "you have to ride with your back forward, it's better". No. These are the four things to remember:
Sometimes you have to get out of your comfort zone and question something you thought you had acquired, such as your standing position. We all have our defects and putting ourselves in a new and uncomfortable situation allows us to progress.
You must sometimes test new methods and not remain "dogmatic". Riders like Fox-Pitt have a lot to teach us.
From a riding point of view: the flexibility and synchronization to your horse is essential to progress and not to disturb him. These are parameters that distinguish beginners and experts according to some studies.
Being "in balance", will allow you not to disturb your horse. It's a fundamental.
I can only advise you to do as I did 3 years ago now. Shorten your stirrups. Hold on to your horse's main and ride. Switch from "police officer" position to "Jockey / skier" position. You will eventually find a happy medium that will suit you.
Till next article,
Camille Saute
R & D Director at Equisense
Official website of W. Fox-Pitt :  http://www.foxpitteventing.co.uk/
La journée Sport IFCE :
Group 1 : https://www.youtube.com/watch?v=ouhKmXqVnrE
Group 2 : https://www.youtube.com/watch?v=IFfbZKQeSy8
Group 3 : https://www.youtube.com/watch?v=_sFdXnRZtXE
I. A. Wolframm, J. Bosga, et R. G. J. Meulenbroek, « Coordination dynamics in horse-rider dyads », Hum. Mov. Sci., vol. 32, no 1, p. 157‑170, 2013.
Illustrations
Policeman by Gregor Cresnar from the Noun Project
squatting by Blaise Sewell from the Noun Project
foot by boggu from the Noun Project