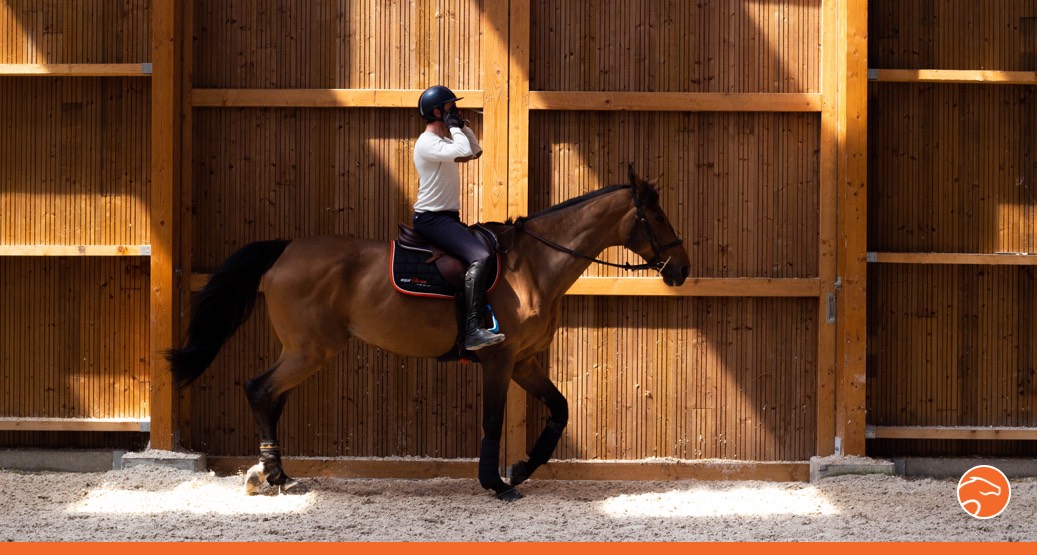 Personal Strength Training for Riders – Improving the Seat and Flexibility
Personal Strength Training for Riders – Improving the Seat and Flexibility
We talk a lot about building your horse's strength on this blog, but not enough about the rider. Let's change the subject for a minute to talk about torture exercises and tips to make us, the lazy riders, work a little. Let me warn you, these exercises should bring back memories of your childhood shetland or pony lessons. We often forget about working on our seat and flexibility over time and that's a shame, so let's try a few exercises. We will start with the lightest, and work towards the most intense.
On the same topic 📚 : Improving your ability to sit the trot
Exercise #1 – Walk and canter without stirrups!
It may be basic, but we don't always think about it (or we forget about it on purpose). What I like to do to work on my seat and lengthen my leg is to do an entire session a week where I completely remove my stirrups. I don't cross them in front, but simply remove them from the saddle altogether so the reins don't get caught and the irons don't hit the horse's shoulder. Remember back when you were child on a Shetland with no stirrups, even over jumps? Well, I do the same thing.
At first, I advise you to do a session without trotting, as walking and cantering are usually easier (it depends on the horse, of course).
My typical session:
5-10 minutes of walk with long reins, taking the time to relax and chat with friends

10 min. of transition work (working walk, halt, extended walk, back, slow, extend, etc.), and stretching (lateral flexion of the neck, raising and lowering the poll, etc.)

10-15 min. of two-track movement at the walk: leg-yield, shoulder-in, half-pass, half-turns on the haunches, half-turns on the forehand, side step, etc.

10 min. of canter in both directions: gait transitions with shoulders forward, haunches-in, etc.
Thanks to Equisense Motion, you can measure and track all of your workouts:
Without stirrups, this will be a lot easier (In my opinion), allowing you to work on your position and your seat, and thus be more at ease. Starting off with 30 minutes at the walk will allow you to find your bearings before cantering. Week by week, you can add trotting in. You'll see that your position has improved, and you're riding beautifully.
Exercise # 2 – Trot posture variations without stirrups
This is an exercise that is beneficial for both you and your horse. It's a simple matter of sitting at a trot without stirrups along the wall, on a big circle or a figure-eight, and alternating five strides with the poll of the neck at its highest point, then lower the neck for five strides. The pace should ideally stay the same, and you can use Equisense Motion to ensure that it does just that.
You'll see the trot will feel different depending on whether the poll is up or down. It's up to you to adapt your seat to stay in the saddle at all times.
Exercise #3 – Do nothing!
(Exercise suggested by Pierre Beaupère)
"Haha, what a joke! The lady says by doing nothing, you'll get better! That's a good one!"
Well…yeah! I certainly don't know about you, but personally, I have a hard time doing nothing when riding. This is about trying to hold as long as possible with completely loose reins (held at the buckle), with hands placed at the withers, without the horse accelerating, slowing down, or cutting corners. If necessary, react gently to put the horse back at the right cadence and amplitude, and then go back to doing nothing.
This will teach you to sit without moving, improve flexibility, control your reflexes, and also to teach your horse that he can manage himself.
Try to close your eyes as long as possible to focus on your feelings in the saddle.
Exercise #4 – Laps around the arena and ground poles in two-point at the trot
"Too easy!"… Okay, so try to do three laps around the arena at the trot without tightening your knees with perfect shoulder-hips-heel alignment, and then we'll talk. This is the kind of exercise that we make beginning intermediate riders do, and then we never do it again. So, shorten those stirrups by three holes and stay in two-point as long as possible!
To complicate it a bit, spread out some ground poles with 1.30 m in between. It'll be a little shaky because it changes the rhythm, so you'll have to be flexible to get it. Here's a classic little tip: fix your eye on a point in front of you to help keep you from tipping forward.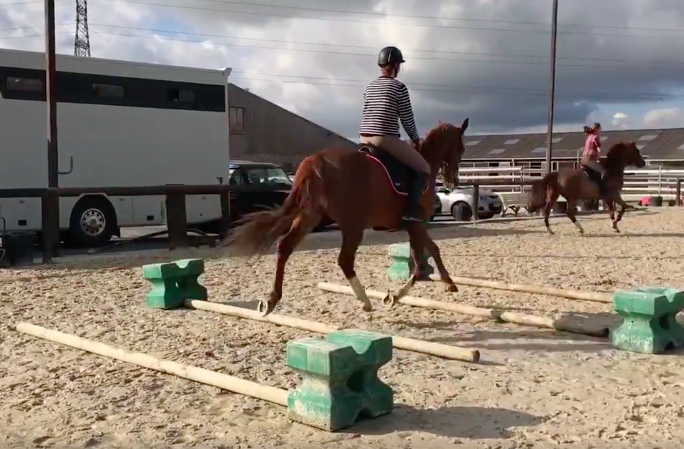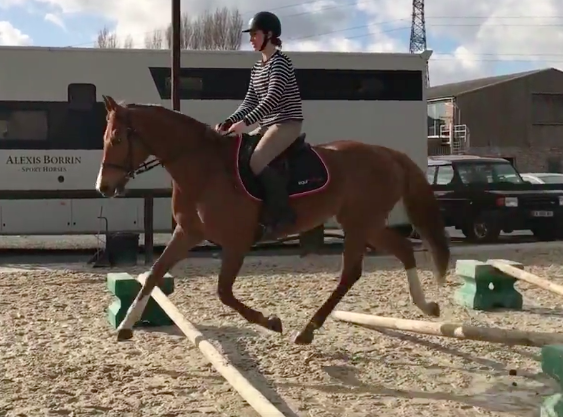 Exercise #5 – Bounces without stirrups, then without hands, and then with eyes shut
Let's go! We've saved the best for last! I often had to do this exercise when I was little (thank you, Diane Strat!). I don't know if I could do it now, but I challenge you just the same: set up an 80-cm bounce or line, then go through as many times as needed without stirrups. When you feel comfortable, knot the reins and jump without stirrups or hands. When that becomes second nature, go without stirrups and with your hands over your eyes three strides out.
Believe me when I say that you will learn how to wait for your jumps, release only as much as needed, and count your strides!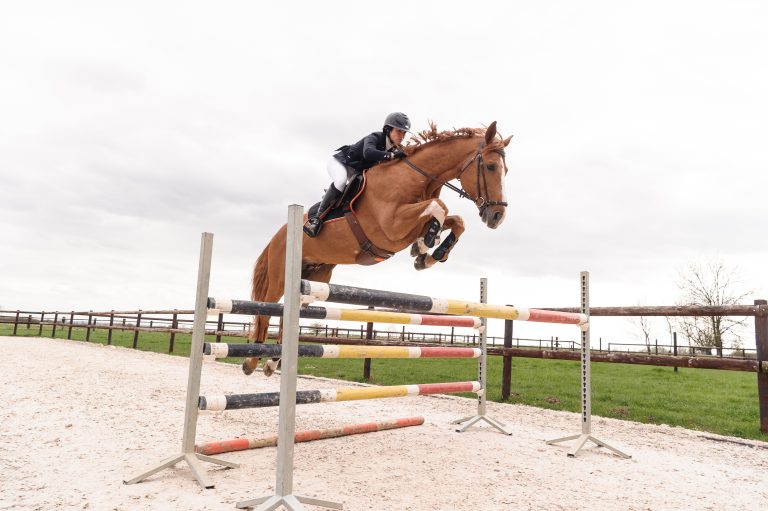 Did you know?
Luciana Diniz, the Portuguese rider who achieved a fine 10th place at the Tokyo Olympics, works regularly without stirrups, even in jumping, to have a perfect position and optimal balance so as never to hinder her horse.
She shares this training secret in the masterclass produced in partnership with Equisense. You'll also find there other very rewarding tips, as well as a very complete explanation of the method she has developed and that has allowed her to have such great results at the highest world level.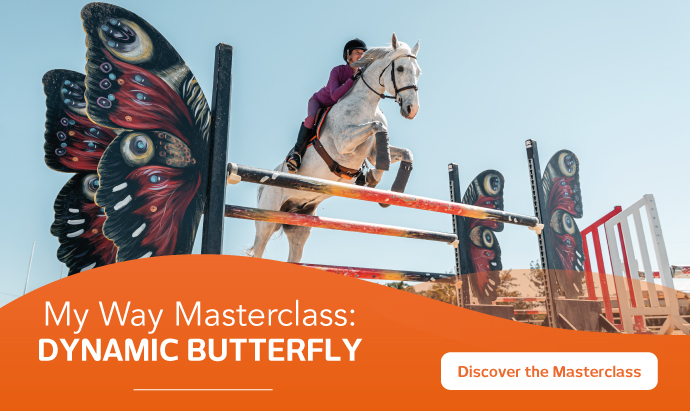 Everything ok?
Send us pictures of your results 😉
Stay tuned.
Camille Saute
R&D Manager at Equisense