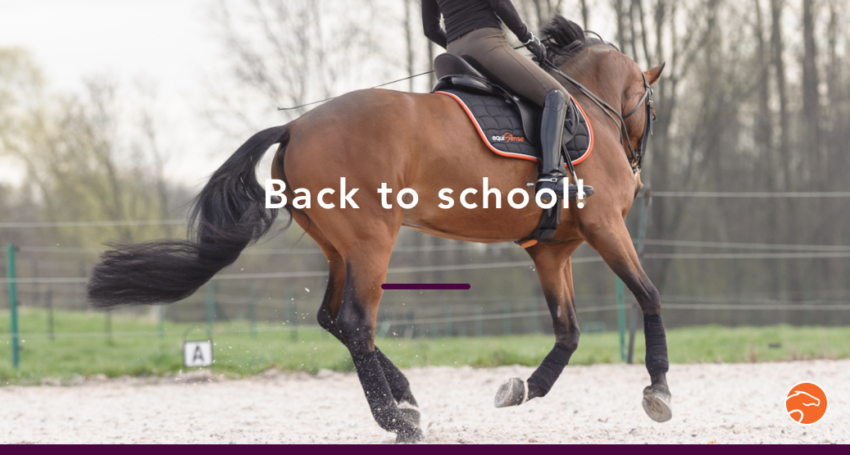 7 Exercises to get your Horse Back to Work
7 Exercises to get your Horse Back to Work
It's the end of summer, everyone is going back to school or work, and it's the perfect time to set some resolutions that probably won't last after October… But let's do it anyways! Let's register to a new gym 🏋, go swimming more often 🏊🏻, buy nutrition books… But what about Star???? It's time to take some good resolutions for her as well, and this starts with 2 weeks of gradual work, with 7 exercises to get your horse back to work!
📚 Learn more: "5 exercises for muscle reinforcement"
📚 More exercises: "4 dressage exercises to build muscle"
Goal #1 – Re-tone the abs, the pecs, the glutes and the neck (oh my!) 💪
The horse "untrains" a lot slower than humans do. Still, it's important to start again gradually to avoid diseases like myositis, which happen when the horse gets back to work too roughly.
We're going to start with 3 exercises, based around muscle building. Their goal is to tone the abs, the chest, the croup and the neck.
You want to learn more about muscle building? You can read these articles:

Abs: No abs, no back
Neck: Neck muscles
Shoulders: How to build shoulder muscles
1. Walk in water 🏊🏻
This exercise allows you to easily transition from holidays to work! If the weather is good and you have access to water, you can go for a nice walk in the water, or even make your horse swim! It's as good for them as it is for us!

The resistance of the water makes walking a lot harder. It's physically trying, but it's an excellent way to get your horse back to work. It's used a lot after injuries to build back some muscles smoothly or as a recovery training. Pool training showed their efficiency for "lung capacity": the heart rate and lactatemia decrease from session to session. [1]
Learn more: Here's the only way to improve your horse's fitness
2. Figure 8 with attitude variation
Let's get back to earth. This exercise simply consists in going over, at walk and trot, a figure 8 in which you alternatively ask your horse to perform one circle with an extended neck and one circle with a higher neck. And with engagement, please! Don't ask for too much at first, it's harder than it looks for your horse! Think about doing this exercise at both hands.
This may seem simple, but it's a great exercise to make your horse's whole body work.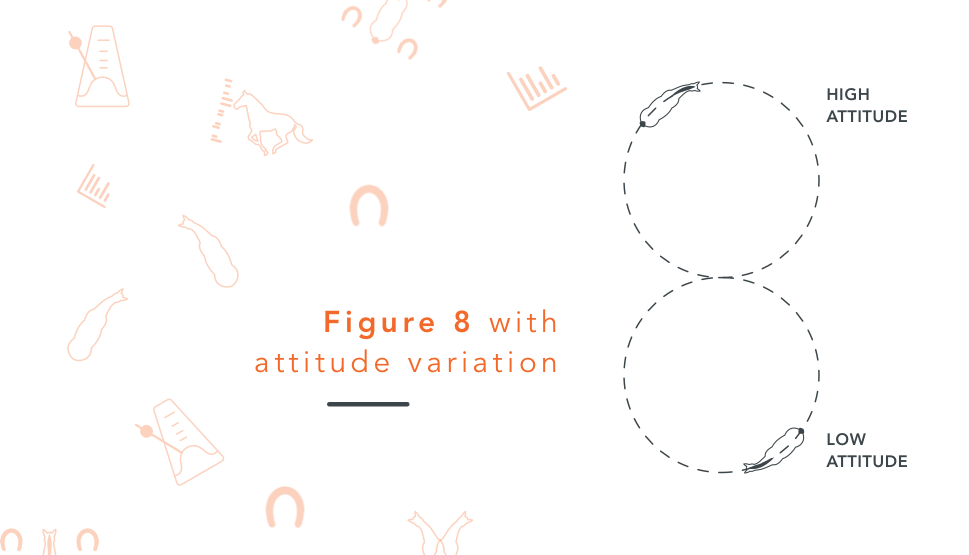 Why does this exercise make the abs and the glutes work?

Because working with a low attitude will put the nuchal and supraspinous ligament in tension (I'm linking the article on abs which explains all this). These ligaments will cause a pelvic traction to shift it "forward" and make the work of the abs harder. So with the same engagement, in a neck extension the abs work twice as hard! Furthermore, the shift in the joint angles around the hind legs will stretch the gluteal muscles, which will tone them!
 "Joint movements are associated to the elongation of every propulsion muscle, which is good to develop strength and power." [2]
Still, be careful: horse's with joint problems can be in a bit of pain at first.
Why does this exercise make the chest muscles work?

To sum it up, the horse's chest muscles (the pectorals) create a "hammock" which supports the horse's entire body because the horse doesn't have a collarbone. When the horse lowers its neck, it will put weight on the forehand which will force the pectorals to contract hard during the elongation (eccentric contraction) to support the body.
Why does this exercise make the neck muscles work?

The muscles allowing the horse to raise its neck will be highly stretched during the neck extension. They will react by contracting while stretching (eccentric contraction) to hold the horse's head. This eccentric contraction will tone the neck a lot!
Learn more: How can I build muscles in my horse's neck?
3. Circles on uneven terrain
This exercise is possible only if you have a bit of uneven terrain where you ride. If you do, you're lucky, it's extremely good for your horse!!
For this exercise you can lunge or ride your horse. Working in a circle at each gait on an uneven terrain is absolutely terrific. It's good in particular for the glutes. They will be stretched a lot when the horse goes downhill and contract harder to push when the horse goes uphill. The pectorals will have to handle a heavier weight than they are used to downhill. The abdominals will have to work twice as hard to keep the engagement.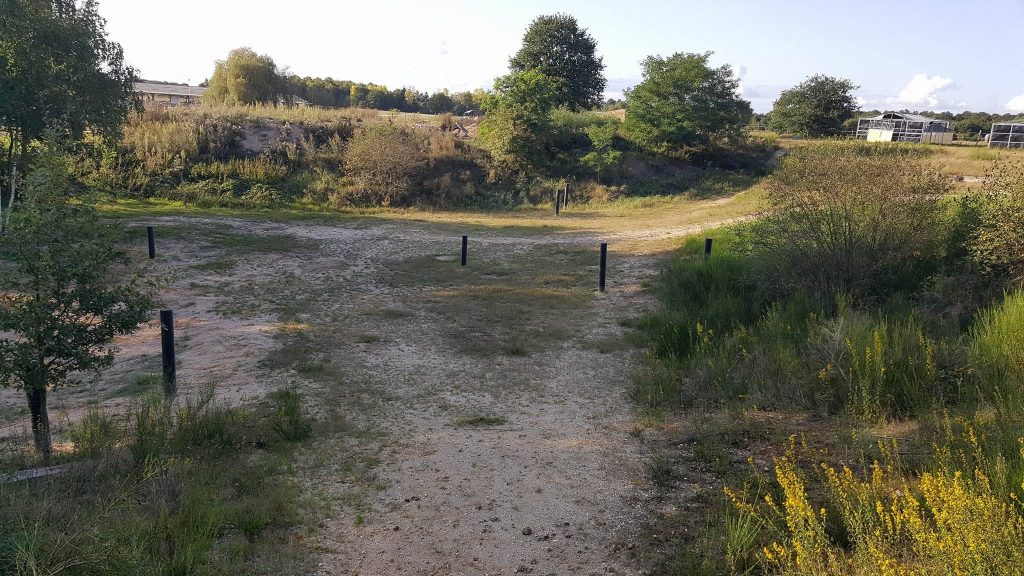 Goal #2 – Get some flexibility back
4. Raised poles at walk
It's pretty simple: a pole (or several), raised by a few centimeters (from 10cm to 30-40cm). Your horse should be able to go over them and put one feet after the other.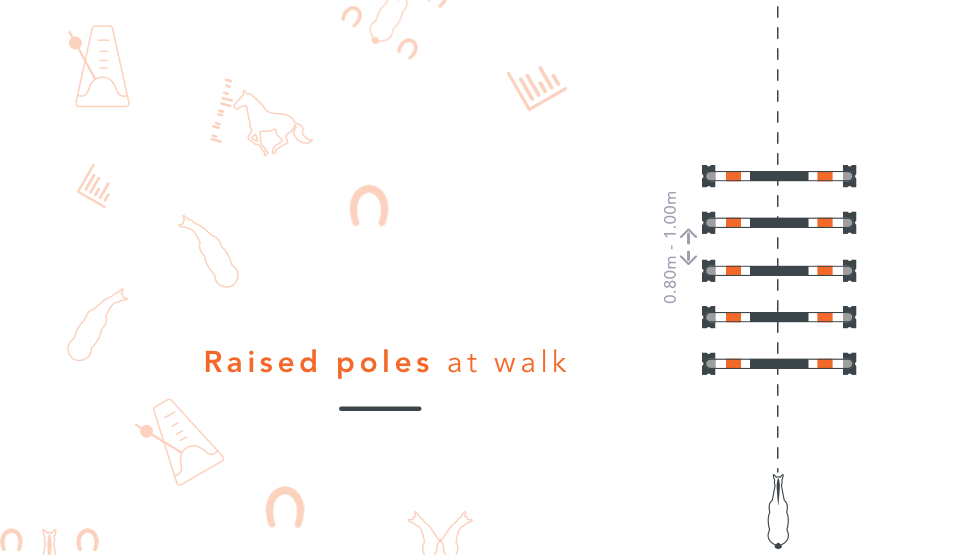 You'll see that oftentimes the forelegs go over the pole without a hitch but horses are likely to "jump" with both their hindlegs together. In this case, try again until every feet goes over the pole at the right time.
It's a very good coordination exercise, and it's also great for muscle building. The horse can't rush through the movements and it has to bend every joint harder than usual. I like to do this exercise right at the beginning of my session, to make my horse stretch out.
5. Raised poles at trot
A classic! The best exercise to use during any session (whether you're lunging or riding, during work, as a warm up, a flatwork session or a jumping session..).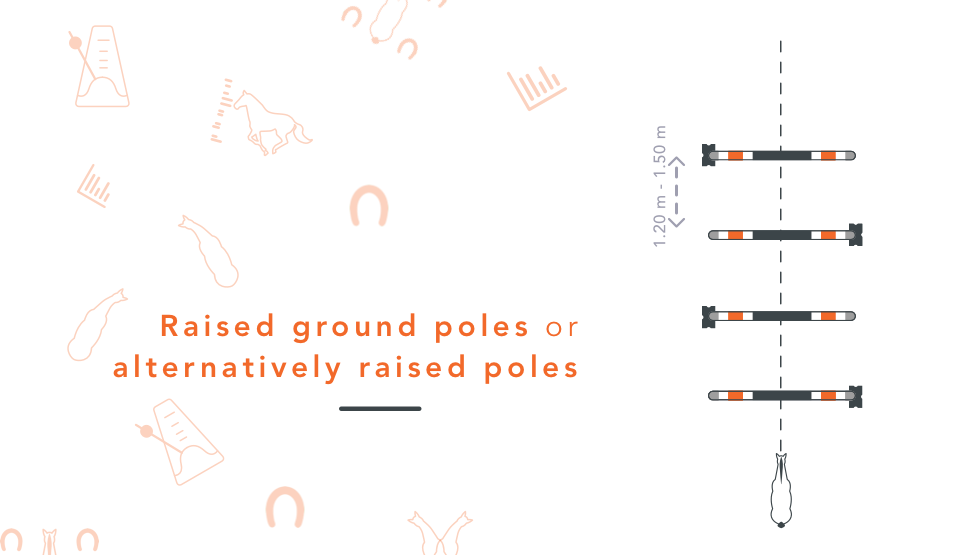 You just have to go over slightly raised poles at trot (at both ends from 10 to 20cm, or successively one end or the other in which case you can raise the poles a bit more), spacing them by 1.20m to 1.50m.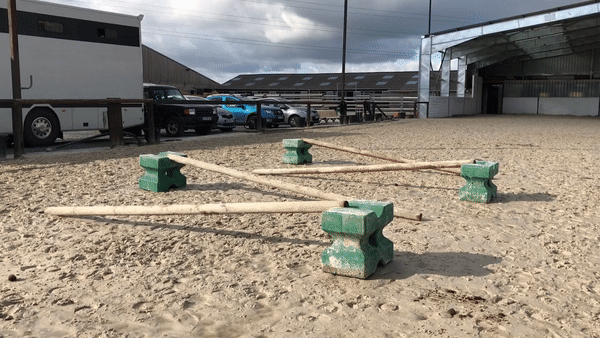 This exercise has a lot of advantages: it will help your horse be more supple, lower its cadence, improve its elevation. It's also a great muscle building exercise!
Indeed, the horse has to adjust the trajectory of its foot when it goes over the pole, and this makes the horse work all over!
The pectorals and the serratus muscles will work to "pull up" the withers (they will free the forehand) and to bend the forelegs. The abdominals will strongly contract in a concentric way to allow the hindlegs to bend over the pole. The gluteal muscles are going to be stretched as well! Start small, but once your horse is used to it, you can raise the poles a bit more!
Be careful: if your horse has never done this before, it'll be surprised.
Goal #3 – Get some energy and suppleness back
6. Serpentine at canter
With no lead changes please!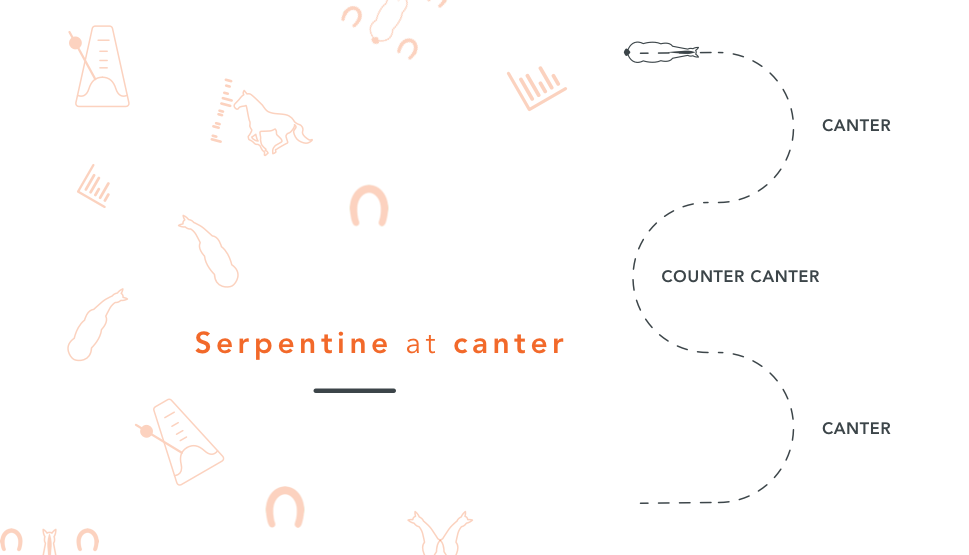 Counter canter is a great exercise to bring balance and coordination to your horse.
This exercise can be done in several steps. Firstly, the counter canter part can be done with a slight bend to make it easier. Then, the horse has to be "straight" on the circle. Lastly, you can try to bend your horse inside on the counter canter part (your horse canters on the left leg while keeping its bend around your right leg). This last step is very difficult!! Go gradually! If you manage to do it without your horse doing a lead change, you'll reach the "Holy grail" of horse control.
7. Bounce jumps
It's also a must-do exercise. Yes, I'm looking at you too, dressage riders!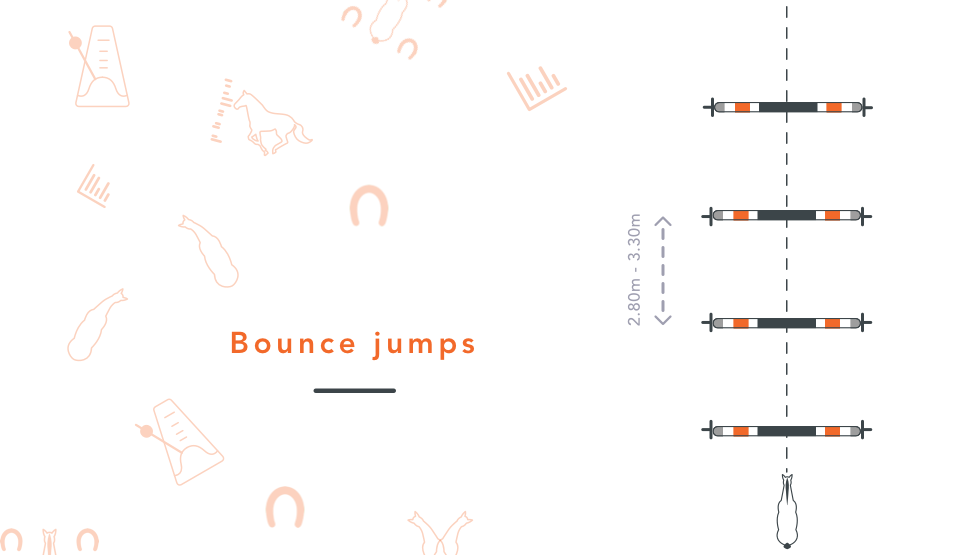 Indeed, bounce jumps are really good to work on the abdominals with quick flexions and extensions, close together. They also make the chest muscles work, as any jumping exercise does!
When landing from the first fence, the forelegs will touch the ground then immediately take off again to start going over the second fence. Then the hindlegs will do the same thing. There is a phase in which the forelegs are already jumping while the hindlegs haven't touched the ground yet. This suspension phase is shorter or longer depending on the speed you enter the exercise at.
The chest muscles work really hard both at landing to assist the body between both forelegs, but also to help the forelegs take off before the hindlegs touch the ground. The back flexion, so the abdominal contraction, is huge during this phase. Lastly the gluteal muscles will play their "launching" role, and work hard.
Great exercise, isn't it?
How Equisense Motion and Motion S can help you 🐴
Use Equisense Motion or Motion S to get your horse back to work. Follow the length of your sessions, how long you spent at each gait. You can also make sure that your horse's locomotion doesn't deteriorate when it starts working again. By the way, try to compare the symmetry or the elevation before and after your horse gets some rest to see if it did some good!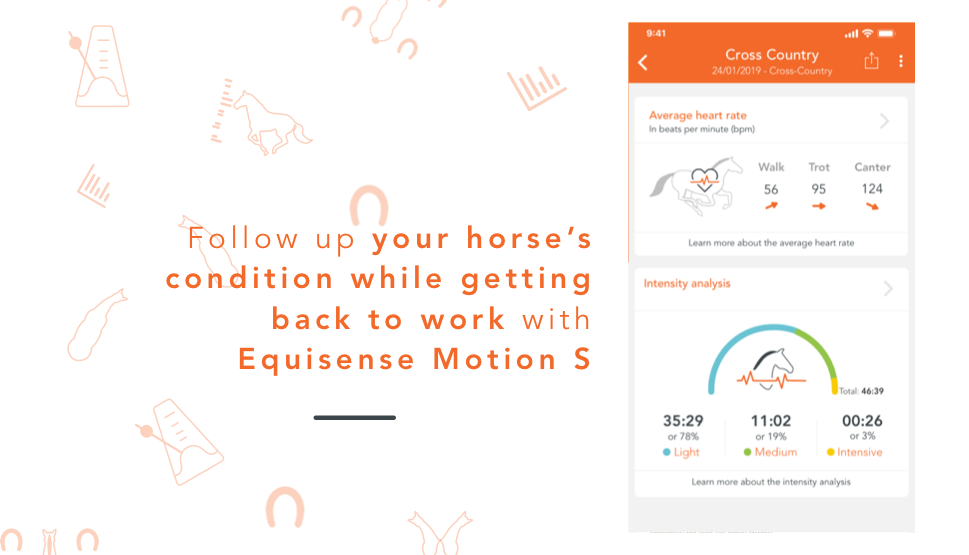 It's the beginning of the season, time to start thinking about what you're doing this year! 📅
Being organized is always better, isn't it? And what better way to be organized than to program your training ahead this year?
Let me give you all the keys to have a year worthy of a champion in this article ⇒ How to program your horse's training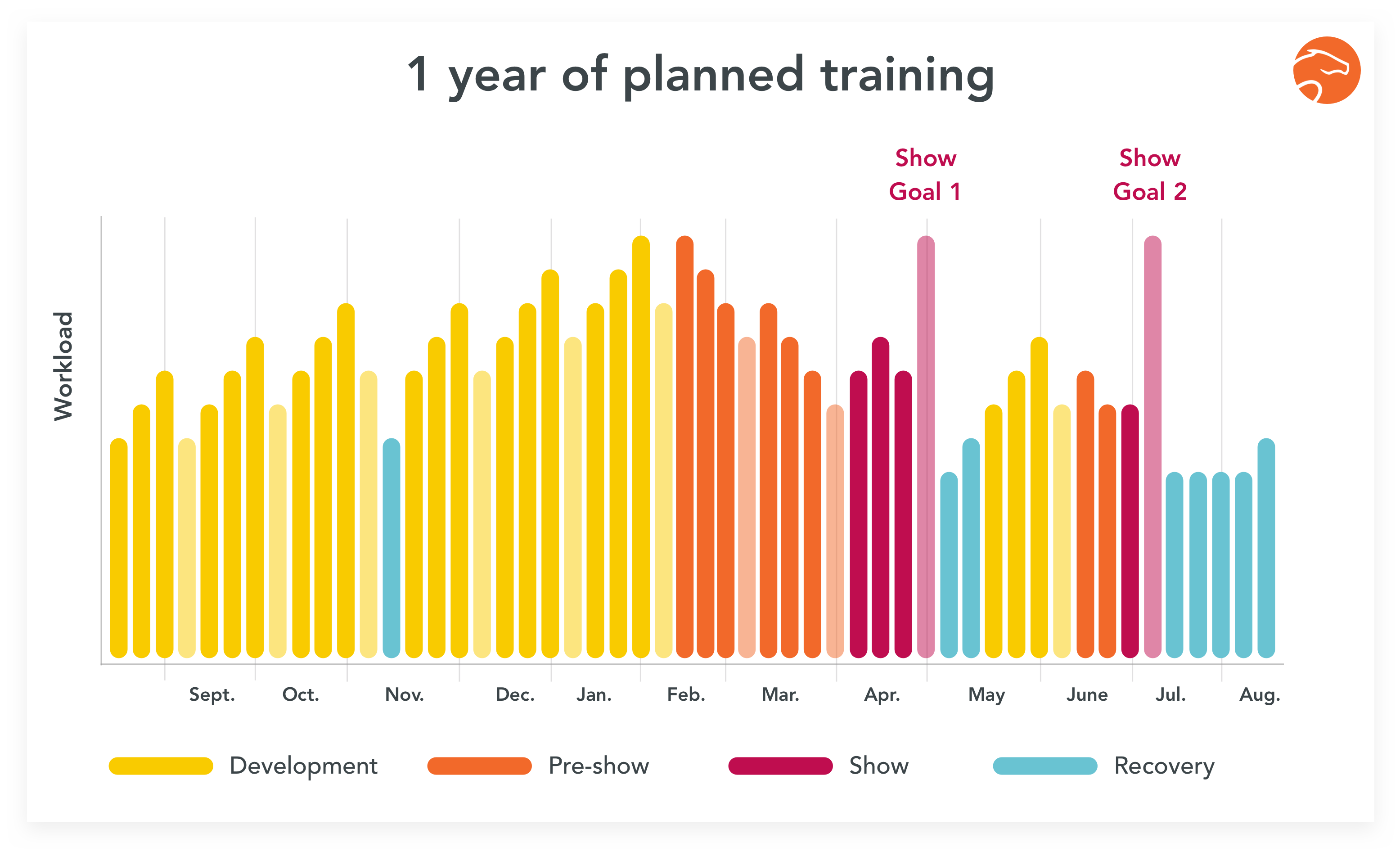 See you soon for another article,
Camille Saute,
Equisense co-founder
---
Bibliography
[1] Galloux, P. (2011). Le Concours Complet d'Equitation. Paris, France: Belin.[2] Denoix, J.-M. (2014). Biomécanique et gymnastique du cheval. Paris, France: Vigot.
Illustrations
Swiming by Dinosoft Labs from the Noun Project
Cover picture: ©Nathalie Hupin – Equisense