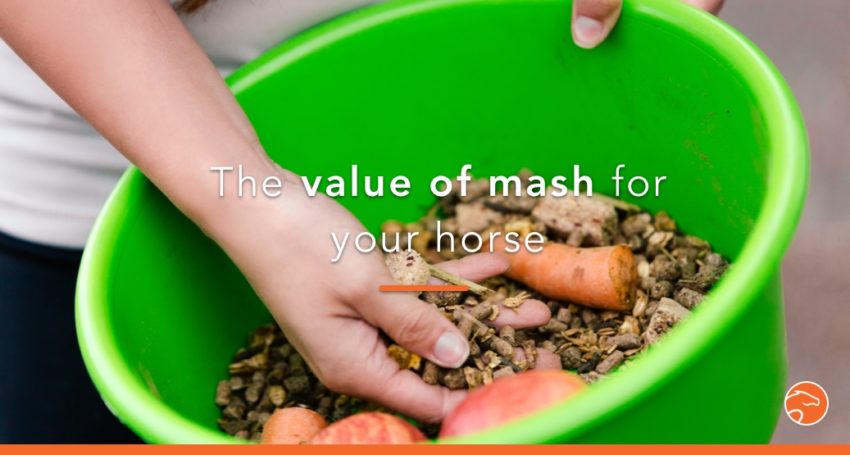 4 Good Reasons to Feed Your Horse Mash
4 Good Reasons to Feed Your Horse Mash
Giving mash to your horse is rather "trendy". It is said to have many benefits: it helps digestion, is easily assimilated, has hydrating, emollient and refreshing properties, etc. Difficult to sort them all out! Moreover, it is a traditional food that has been used for decades in horse feed. This is surely why the preconceived ideas about it are so hard to believe! In addition, we have very little scientific information about the usefulness and the virtues of mash on the digestion of horses. Here are a few tips to help you see things more clearly…
What is Mash?
Let's start at the beginning: a mash is a wet food (on average 50% water), very digestible, resulting from the cooking of different ingredients (often flax seeds, cereal flakes, wheat bran, salt, molasses and calcium carbonate). It can be homemade or purchased "ready to use" from a manufacturer (in which case only water needs to be added).
📚 On the same topic : "Cereal Free" Feed: Dietarily Interesting or Marketing move?
What are the good reasons to use it?
Good reason #1: to replenish energy reserves
To make an effort, the muscles need chemical energy (from food) which they will transform into mechanical energy. To ensure that they have energy available during sustained and prolonged sports effort, they are able to store energy (from dietary carbohydrates (carbs)) in the form of glycogen. In an athletic horse, this muscle glycogen energy reserve is of major interest as it determines how long the horse can sustain intense effort.
Mash is rich in carbohydrates (especially starch). It is therefore useful for replenishing muscle glycogen reserves after intense sports effort. This concerns athletic horses whose body is strongly solicited.


Good reason #2 : rehydrate
The presentation of the mash and in particular the presence of cereal flakes gives it rehydrating properties. Indeed, the flakes have the capacity to absorb water, which allows the horse to ingest a hydrated content. This is why it is used in the evening or the day after a return from a competition, especially if the horse has sweated a lot during the event and/or during transport.
📚 On the same topic: How to react if your horse sweats and is dehydrated
Good reason #3 : to facilitate bowel movements
We often hear that feeding one's horse mash makes the digestive system "rest" by facilitating the intestinal transit. This is not false but it is advisable to remain careful because it depends on two things:
The raw materials used: when it contains flax seeds, which are naturally rich in mucilage (viscous soluble fibers), their fermentation in the large intestine creates a call for water and allows the moistening of the dung. This has the effect of promoting transit. Wheat bran also has, to a lesser extent, this "laxative" effect.
The quantity given: beware, mash is very rich in cereal flakes and therefore in starch (on average 400 to 500 g of starch/kg). Given in excess, it can cause digestive problems.
In addition, mash is highly digestible: cooking the cereal grains and flaking makes the starch more accessible to enzymatic digestion, which is quite favorable for microbial digestion in the large intestine (compared to uncooked whole grains).
Good reason #4 : to help a sick or recovering horse
The mash is an interesting indication in different types of situations:
Going back to concentrated feeding after a long convalescence on forage ( post-surgery for example);
For horses with dental problems that have difficulty chewing;
In case of poor appetite or the need to rehabilitate weakened or old horses;
For horses allergic to dry feed dust because the water helps to aggregate the particles.
However, to achieve these different recovery goals, certain conditions must be met:
Mash should be given as the only concentrated feed;
The quantity must be controlled (because the mash is very rich in starch and therefore carbohydrate energy);
The duration of distribution must be limited and restricted to the period of convalescence.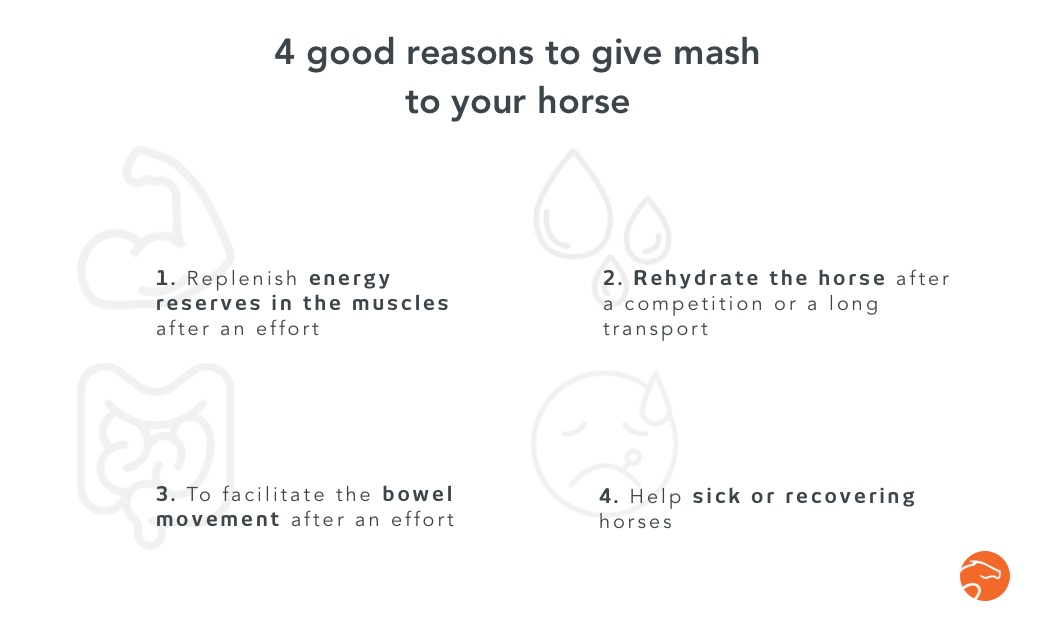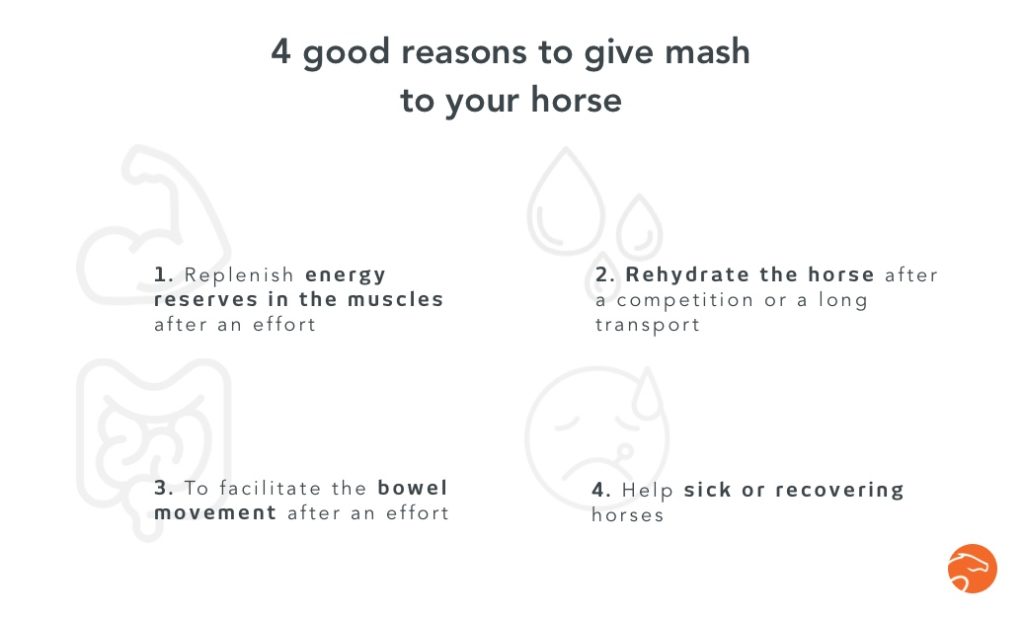 📚 Must read blogpost : How to calculate your horse's ration?
What are the precautions to take when feeding my horse mash?
The first thing to watch out for is its high starch content. Be careful to substitute it (and not to add it) to the usual food and to use it in reasonable quantities.
In the case of a highly solicited horse (top athlete or racehorse), 2L of a classic mash is obviously less energetic than the usual ration, but in the case of an amateur sport horse, this is not necessarily the case, and in the case of a leisure horse even less so.
Another point of attention: horses sensitive to pathologies related to excess starch. Mash is rather beneficial for these horses, provided that it is used on days when the horse is resting to adjust to the lower energy requirements and therefore that the amount of carbohydrate energy it provides is lower than on a normal day.
Concerning horses suffering from recurrent myositis: here again, it is necessary to be vigilant on the overall starch intake of the ration as well as on feed transitions (introduction of mash in the ration) which are poorly tolerated in this type of pathology.
On the other hand, any beneficial action on gastric ulcers has never been demonstrated. As far as digestive colic is concerned, it should be remembered that when given in excessive quantities, it tends to destabilize the microbiota of the large intestine and therefore tends to promote their appearance.
📚 On the same topic: 3 Things to Avoid When Feeding Your Horse
Are there any precautions to take?
Yes, of course! First of all, mash should always be used as a supplement to forages (it seems obvious but we can't repeat it enough).
It should not be used more than once a week for solicited horses and more than twice a week for very solicited horses (top athletes and race horses).
In addition and for sanitary reasons, it is preferable to use it within 24 hours of its preparation.
📚 On the same topic: How Long Should you Soak Your Horse's hay for?
Should I choose homemade or ready-to-use mash for my horse?
Each formula has its advantages and disadvantages. When it is "homemade", the mash has the advantage of containing exactly what you want. In addition, cooking the cereal for a long time increases its digestibility. On the other hand, from a practical point of view, the "ready-to-use" mash is incomparable since it is quick to prepare and does not require any special equipment. Moreover, it allows an excellent safety of use from a sanitary point of view. The choice of one or the other is therefore made according to the expectations and constraints of each person.
| | Homemade Mash | Mash prêt à l'emploi |
| --- | --- | --- |
| Composition | Your choice | Imposed |
| Mineral balance | Your choice | Imposed but adjustable. |
| Security of use | Relative | High |
| Practicality | Not very practical | Very practical |
| Preparation time | Long | Quick |
| Equipment | Necessary | Useless |
| Digestibility | Higher | Lower |
Advantages and disadvantages of homemade or ready-to-use mash


To sum up…
How and for whom?
To replace a meal of concentrated feed:

For horses that practice an intense sports activity (there is no reason to use it on a recurrent basis for horses with a light to moderate activity): after a competition or on the weekly rest day.
The days of transport by hot weather or big heat, for its rehydrating properties
On very cold days: cold weather tends to limit spontaneous drinking and mash helps hydration. (Also, horses like to swallow something warm).
As the only concentrated feed (provided it is balanced, distributed in controlled quantities and over a limited period) for convalescent horses.
Mash is therefore an interesting feed because of its digestibility and high water content, provided it is used wisely. In practice, it is still too often distributed in quantities that are too large and/or with too high a frequency.
Marine Slove
Veterinarian and nutritionist at Destrier
Bibliography :
G. Blanchard, Du bon usage du mash dans l'alimentation du cheval, Pratique Vétérinaire Equine, 2006 – Vol 38, n°151
Images :
Muscles by Dàvid Gladys, from the Noun Project
Water by Smalllike from the Noun Project
Intestines by TUXX from the Noun Project
Sick by David Glöckler from the Noun Project