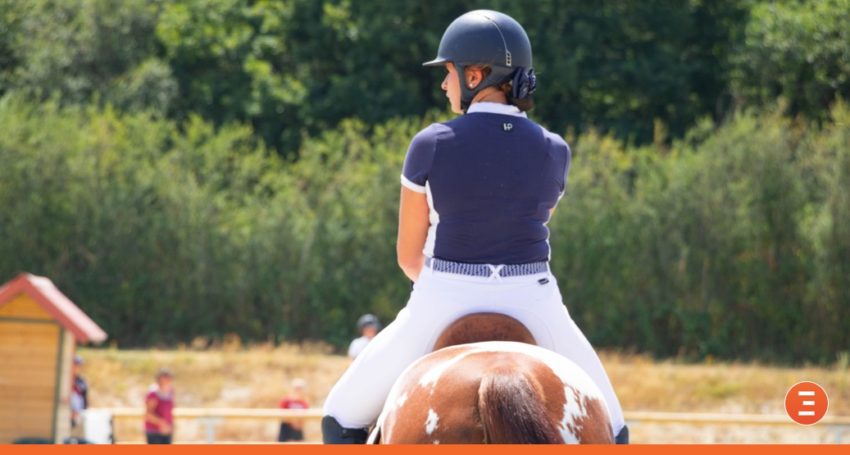 The Rider's Mental Preparation
The Rider's Mental Preparation
Here are a few general pieces of advice to learn and understand the crucial things in the search for performance and pleasure!
By Jonathan Rougier, sport psychologist and hunter trainer
1️⃣ Set goals and achieve them!
Setting goals for yourself allows you to structure your progression, and to assess your progress as the season goes by. It is a source of motivation and of progress. This is the base of mental preparation.
Setting goals enables you to channel your motivation. Well yes, when you know at which point you have to be and when, you can plan your training better and thus, stay motivated from beginning to end!
For the goals to be effective, they have to be realistic but ambitious, measurable and dated (with a term). A good goal is a SMART goal.


📚 Read also: How to plan your Horse training for the entire season
The different types of goals
We can distinguish between two types of goals:
🎯 Competition goals which are based on the comparison with others.
Ex: "I want to be ranked in this championship" or "I want to be in the first third of this event"
🎯 Technical goals which are based on a comparison with yourself across time.
Ex: "I want to do a clear round", "I want to keep a regular cadence all throughout the whole course"…
🖐 Pro Tip: People should never go to a competition without having one or many technical goals (we talk about technical contract)
👓 Coach's corner: Don't impose, but rather suggest goals to your students. They'll be the ones to choose which goal suits them better, and thus be more involved in achieving it!
Finally, dividing a long term goal in many smaller achievable goals is more motivating! You can create a timeline to instantly see where you are in relation to the final goal!
Auto evaluation and counter performance
It is important to learn to auto evaluate after each event with the technical contract. It is better to auto evaluate yourself with percentages, because it is less discouraging.
🖐 Pro Tip: Do some Hunter and Dressage, they help you learn how to auto evaluate better!!!
Even then, counter performance is part of a sportsman life, and is a lesson to learn.
You still have to stay motivated! Horse riding is a sport where you progress by levels, and not in a linear way… Often, something will just click, and you'll succeed in things that seemed impossible before…. Sometimes you'll stay at the same level a long time.. You have to be very patient!
🖐 Pro Tip: I have a Plan B ! The most important goal of the season always has to be followed by a second goal. This second goal has to be ambitious as well, because it allows you to have less pressure to achieve the first one!
👓 Coach's corner: Mistakes have value! Put emphasis on the smaller progress and encourage your students to accept their mistakes. They have to be corrected, but they are an immense source of progress.
The sensors to help you auto evaluate
To help you auto evaluate, Equisense Motion and Equisense Motion S will be very useful.
After having done a course or an exercise, try to analyse what went well and what went wrong. Did you have the right cadence? Was it stable? Did you respect the striding? Were your approaches good?
Do a first analysis of all of this, then check with Motion or Motion S if your feelings were right. With time, your sensations will sharpen. You'll know then what your strengths and weaknesses are! Perfect to go in a competition comfortably.


---
2️⃣ Install reinforcing routines
The little habits we have before, during and after a competition are really important in the search for performance.
There are strengthening routines and weakening routines. Often, weakening routines are random and are a kind of superstition. Strengthening routines are reliable and have a logical reason to exist. Putting those strengthening routines in place is a good way to improve your mental preparation.
Here are a few examples of strengthening routines:
Having a warm-up protocol and sticking to it: your horse likes it!
Having a list of what you need to bring to an event: I never forget my helmet anymore!
Visualizing your course before doing it for real: no more tracking mistakes and forgetting obstacles!
Here are a few examples of weakening routines:
Having a lucky piece of clothing: if it's dirty on the day of the event, i feel inefficient!!!
Provoking a fault in the paddock: useless and tiring for the horse.
⚠️ Be careful with superstition!
Superstition consists in making two elements depend on each other when they have no logical link: it is dangerous and counterproductive.
For example: " if I see 5 red cars on the way, I'll win the event": WRONG !
🖐 Pro Tip: During the warm-up, I look for precise sensations and don't do too many jumps: this is not the place to teach a horse to jump!
👓 Coach's corner: To each their own routine! Help your students to identify efficient and reassuring routines, don't impose yours!
---
3️⃣ Shut down your ruminations
The inside monologue is what we say to ourselves when the pressure goes up in a competition. These "little voices" sometimes deserve to be corrected if you want to keep control… of your mind!!!
Before a competition, a sportsman's brain is boiling. The "free" or "spontaneous" thoughts tend to go towards anxiety, because of negative stress. It is often the reason why riders start mental preparation.
Once you are aware of this phenomenon, you can "train" your thoughts and make them more positive, so that they are an energy source. This is positive stress!
📚 Read also: How to deal with your fear while riding?
Examples of negative ruminations:
"I suck, I'm going to fall, my horse can't do it".
The rider who loses confidence can underestimate themself or overestimate the level of the event.
This problem can be solved by putting yourself in competition conditions. You have to analyze automatic negative thoughts and replace them with alternate, more positive thoughts.
Your coach knows you well and can help you understand your horse's reaction better. Trust them!
👓 Coach's corner: A balanced educational action is 80% positive reinforcement and 20% negative reinforcement. Keep this in mind all the time, especially in competition!
A few examples of negative rumination turned into positive rumination:
| | |
| --- | --- |
| Negative | Positive |
| My horse is holding himself, he's going to stop | My horse has a lot of balance, it's great! |
| My horse almost knocked a pole down, he'll knock the next one down for sure. | My horse almost knocked a pole down, he'll react and jump higher for the next one. |
With habit, you'll learn to instantly correct negative thoughts and to become more and more optimistic. Good news, this transmits to the horse!!!
🖐 Pro Tip: Use the "SWITCH": if you feel submerged with negative thought and panic, PINCH YOURSELF and heal by thinking about reassuring messages that you have prepared beforehand!
---
4️⃣ Control your physical stress
Physical stress is all the physical reactions we have when we are in a threatening situation. These reactions can be trained, oriented, steered in order to be an energy source!
We are all preys, and owe our survival to our adaptation capabilities. In other words, our species survived thanks to our vigilance, thanks to our stress. To escape a predator, there are two techniques:
Run away or attack the predator: HYPERVIGILANCE
Play dead: HYPOVIGILANCE
Different symptoms of stress:
The two forms of stress manifest themselves differently.
↗️ If you are the "hypervigilance" type:
Getting tense
Getting aggressive
Heart rate is increasing
Feeling nauseous
Tight knees
Needing to go to the bathroom
Round back
Holding the reins tight +++
💡 The solution: use relaxation techniques! Meditation, cardiac coherence…
↘️ If you are the "hypovigilance" type:
Isolating yourself
Being passive
Dry mouth
Losing sensation of a good canter
No feeling under the belt anymore
Forgetting to breathe
Losing reflexes
Losing tonicity
Memory loss
Feeling wobbly
💡 The solution: revitalization techniques
⏩ In both cases:
Losing panoramic sight and not hearing the coach's advice anymore
A good solution to deal with physical stress consists of mental visualization! We'll get to it right after.
A bit of random advice
When you ride:
Look far away (panoramic sight)
"Scan" all the parts of your body to check they all work well and that they are all aligned
Monitor contact with the horse's mouth
Reassure your horse
Nurture your focus on a day to day basis: every exercise you do during training is well prepared!
On foot: 
Be very focused while you walk the course
Regularly practice relaxation or cardiac coherence exercises
Have a playlist of dynamic music and relaxing music
Before a course, try your 3 canters (fast, slow, medium)
🖐 Pro Tip #1: To measure your relaxation progress, use a heart rate monitor. Compare your heart rate before and after the session, it's motivating and a source of progress!
🖐 Pro Tip #2: Have your own emotional regulation: 3 personalized tips that allow you to focus in all circumstances!
👓 Coach's corner: Get your students used to doing the "body scan" during warm up. Relaxing, checking the functioning of every joint from the bottom to the top. During upstream body and flexibility work, suggest exercises that allow to suppress the prehension reflex and the foetal reflex in order to get the panoramic sight back
---
5️⃣ Use mental visualization
Anticipation: the key to success!
Mental visualization consists in mentally representing a course before it actually happens. This technique allows you to anticipate critical phases of the course and the horse's reactions. By anticipating, you arrive being better prepared, and ready to react appropriately to any issue.
It's a simple principle : Imagine you are doing an exercise that is difficult or that you want to improve, or even imagine you are doing a dressage test. Anticipate all that could happen, and visualize yourself correcting it!
The 2 mental visualization techniques
There are 2 mental visualization techniques :
Internal visualization, like with a GoPro camera to improve your skill and sensations.
External visualization, like if you could film yourself, seen from an outside point of view. It allows you to improve your track and space representation.
🖐 Pro Tip: For this to be useful on the actual day, use mental visualization a little bit everyday while training.
Mirror, my beautiful mirror…
The "mirror neurons" are cerebral structures that allow you to mimic an imagined or observed gesture. They are parts of our brain that are specialized in imitation learning. If you use them often, you can visualize exactly what you want to achieve with your horse, just like if you could warm-up without tiring your horse!
📹 When you prepare a competition, it can be very useful to watch videos of riders you admire, it gives good reflexes!
👓 Coach's corner: Imitation learning is something very very powerful. Push your students to watch event videos and to analyze how other riders work.
✈️ By the way, you should know this: vaulting riders use mental visualization for 80% of their training, and only 20% in actual vaulting situations! USE THIS TECHNIQUE AND YOU WILL BE STRONG!
📚 Read also: What riders should do in case of a lockdown
---
To sum up
Une bonne préparation mentale se fait grâce à 5 éléments clés :

1. Set SMART goals for your season to stay motivated. Mix technical goals and competition goals, and don't forget to auto evaluate regularly!
2. Set strengthening routines, forget about superstition.
3. Learn to stop your ruminations and replace them with positive thoughts.
4. Learn to deal with physical stress, depending on its type: hypo or hypervigilant.
5. Use mental visualization to anticipate everything that could happen and more!
Have a great preparation!
Jonathan Rougier
Sport psychologist