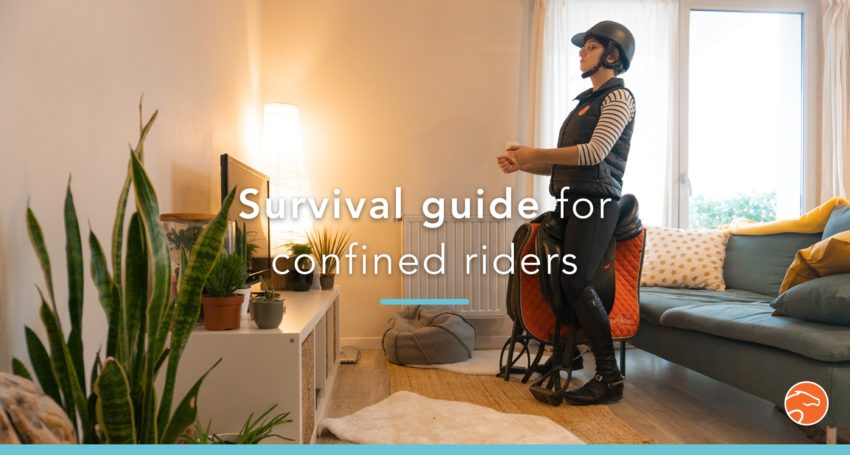 Coronavirus: What riders should do in case of a lockdown
Coronavirus: What riders should do in case of a lockdown
A lot of riders around the world are confined to their homes not being able to see or ride their horses any more. Inevitably, questions arise and concerns rise over the management of this period. We have listed for you the essential elements to help you manage this isolation more serenely and to reassure you about your horse!
The horse, an incredible athlete 💪🏻
The horse is a great athlete. Much more than us! It has this ability to train much faster than we do, and to "untrain" much less quickly. This period should, therefore, have only a very limited impact on its performance and physical capacity, even if it only stays on the paddock for 15 days or a month. All your work from the past few months will not be lost 😊


Rest assured, everything will be fine 🙏
2 precaution measures you should take right now
There are two precaution measures you should take right now to assure the best care for your horse in this situation: management of your horse's outings and feeding.
🔎 On the same topic: Managing owners' horses during the lockdown
1. Make sure your horse can be out every day (or almost)
The horse is made to walk a lot every day. Total inactivity is therefore not ideal. Without necessarily needing to work hard every day, make sure that your horse can be outside, on the paddock, or in the walker almost daily in your absence.
By the way, if your coach takes care of your horse at the moment, they can use the Equisense Motion or Motion S and share the horse profile with you! Like that, you can follow your horses training from your couch 🐴


2. If the horse is not working, lower its ration!
We don't always think about it, but when we say period of inactivity or reduced activity, we'll always say gradual reduction in ration. Overeating and overweight can lead to many pathologies, in particular, laminitis, myositis, or osteoarticular problems when starting work again (tendonitis, etc.).
At these times, unlimited hay can be enough to feed your horse.
👉 More information: How to feed your horse according to its needs?
Again, be calm, everything will be fine 🙏
How to occupy yourself usefully when you have to stay at home
Now that we are reassured that our horse is in good hands at the stable and that our coach pampers him, let's see how we can take care of these long days which allow us more free time (we have to see the bright side of things …).
1. We take this opportunity to make a nice training program
Now that we have time, no more excuses to postpone this training schedule!
The principle is simple: plan your training several months in advance depending on the goals you have set.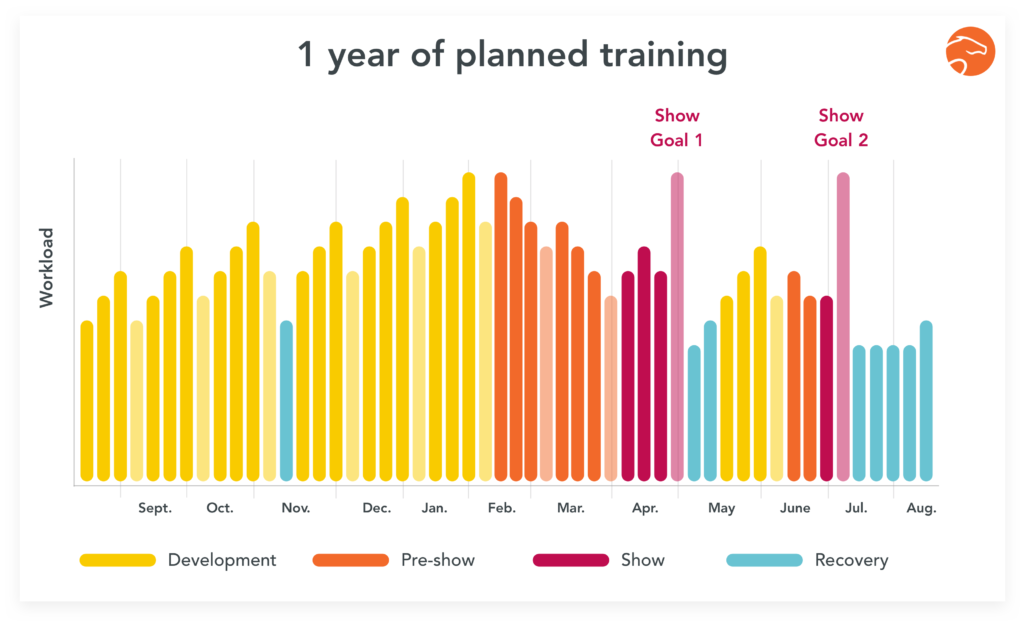 The advantage of scheduling your training is that the motivation is immediately higher when you set goals and everything is planned to make sure you get there. It also reduces stress because you arrive much more prepared for competitions!
📚More information: How to manage your stress as a rider?
So, since the season is going to be shortened a bit this year, it is all the more important to make a good training schedule! 🎯👉
⏩ How to plan your horse's training for the entire season
2. We make our mirror neurons work 🧠
The "mirror neurons" are brain structures which make it possible to precisely reproduce an observed or imagined gesture. These are parts of our brain that specialize in imitation learning. If you use it often, you can visualize precisely what you want to achieve with your horse, a bit like having the possibility of doing a warm-up but without tiring the horse!
You will understand, it is therefore ideal in this period!
The principle is very simple: watch videos of riders that you admire! This gives good reflexes. So even if you spend days in front of the computer or watching TV, take 10-15 minutes a day to watch the jumping courses or dressage tests of riders that you admire. For my part, I do not hide my weakness for William Fox-Pitt or Marcus Ehning. 😊


3. We work our mental visualization
Mental visualization is the solution that allows you to anticipate a course, a jumping course or an exercise. By anticipating, we arrive better prepared and ready to react correctly to the slightest concern.
💡80% of aerobatic pilot training is done by mental visualization against only 20% in real flight situations!✈️
The principle is simple: imagine yourself performing an exercise that is problematic or that you want to improve.
You can visualize it in different ways: either in internal visualization, as with a GoPro, or in external visualization, as if you were filming yourself. Feel the sensations that you would be doing this exercise, anticipate what could go wrong (my horse precipitates, it accelerates, it loses its balance …), and visualize yourself correcting these problems. Once you can go back in the saddle and do these same exercises again, you will immediately react much better, since you will be prepared for it!
In the case of internal visualization, you will improve your address and your feelings. In the case of external visualization, you will improve your layout and your representation in space.
Take advantage of this period of confinement to start using mental visualization! This is a simple way to progress even without riding a horse.
4. We do sports at home to keep in shape 💪🏻
Finally, we don't give in to snacking during this period (at least not too much), and we keep ourselves physically fit! So put on your leggings, your sneakers, and do some muscle building!
We offer several specific training programs for riders in the Equisense app. Also, do not hesitate to browse YouTube to benefit from Pilates, yoga or muscle building classes, which are easy to do at home and without equipment. Your horse will thank you soon!


🔎 Learn more : 10 Strength Training Exercises for Riders
How to return to work after confinement?
Your horse will not have worked much during this confinement period, so it will be necessary to return to work gently to avoid the risks of myositis.I then propose a program of 7 sessions to gently resume work. All exercises are available in the Equisense app! Download it, it's free.
Session #1: Lunge without reins
Maintain a round circle
The spiral (lunge version)
The corridors


Session #2: Stretching with rider at walk and trot
Lengthen the reins
Figure 8 with varying carriage
Walk – trot transitions on a circle


Session #3: Work in flat terrain
30 to 45 min in total
10 to 15 min trotting without halt
Session #4: Flatwork at all gaits
Corridor with ground poles
Simple ground poles at the trot
Simple ground poles at canter


Session #5: Lunge (possibly with reins)
Transitions trot – canter on a circle
Corridors and transitions
4 poles on a circle


Session #6: Cavalettis
Jump at trot
2 verticals on a circle
Figure 8 with an obstacle


Session #7: Working in varied terrain
30 to 45 min in total
15 to 20 min trotting without halt
Here is a small program for a gradual recovery after this confinement away from your horse!
---
Be strong! The moment is hard but it is necessary. Take advantage of this time to discover new training techniques such as mental visualization. Watch videos of your favorite champions, do muscle building, and you will see that these 15 days (or more …) can be used to experiment with other ways of working!
You can do it 💪🏻! Stay at home, keep in touch with your loved ones, keep smiling, and take care of yourself!
Finally, a huge thank you to the nursing staff 👏, and also to the stable managers who are there for us!
Camille Saute
Co-founder of Equisense