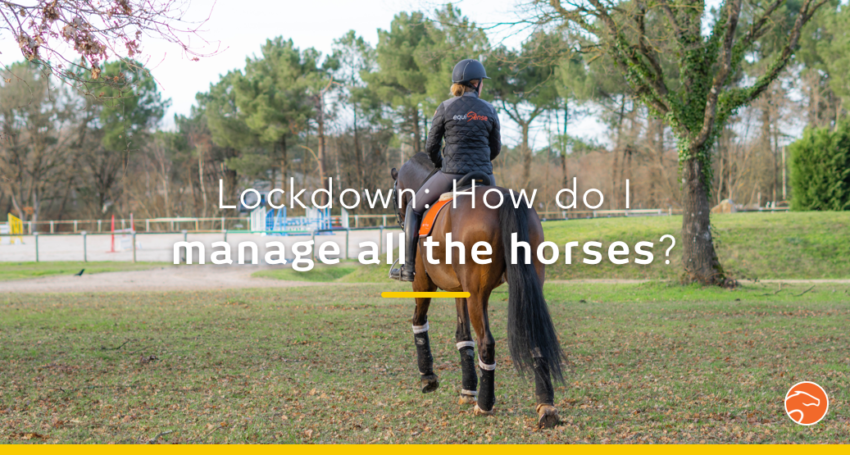 Managing owners' horses during the lockdown
Managing owners' horses during the lockdown
If the riders are completely helpless in the face of these containment measures that separate them for several weeks from their horses, the coaches / instructors / stable managers / riders are overwhelmed in front of all these horses for which they have all of a sudden full day-to-day management. Don't worry, you are not alone in managing the horses. Here is a short survival guide for coaches in confinement time!
How to organize the work of horses during this period of confinement?
This is obviously the biggest issue right now, or at least the one that homeowners are most worried about. "What will my horse actually do every day?". Here are some tips and elements to reassure you, you who have the responsibility.
Tip # 1 – Get the horses out as much as possible and diversify the work as much as possible
It goes without saying, and I don't tell you anything new, but obviously horses have to get out as much as possible. If we can limit the confinement of horses, this is clearly ideal. At least they can walk free outside 😉
We have been able to see stables on social networks transforming parking lots, flowerbeds or any other more or less grassy surface to create temporary paddocks. This helps to bring out as many horses as possible at the same time. A good horse managing idea that will save you time and save you from using the mower!
Also, some of you have grouped the horses by "typology": youngsters, competition horses, club horses … by assigning them the same schedule in rotation. Example: today, all the young people are free, competition horses are running, and club horses are working on the bars. You can then set up a device in the arena which will suit all the horses in the same group. This will save you time!
Tip # 2 – If you need to lower the workload of some horses, do it gradually
It is obvious that some of you will not be able, for obvious reasons of logistics and time, to maintain a constant workload for all horses. It does not matter! Horses "untrain" much slower and re-train much faster than we do. Just think of gradually lowering the workload of your horses. It will limit the risk of myositis and colic! We can do well without that at the moment 🙈
💡If you are equipped with an Equisense Motion, gradually decrease the trotting time by 3-4 min per session and the canter time by 2-3 min per session. If you are equipped with an Equisense Motion S, the workload is automatically calculated using the cardio measurement. So you can follow that closely.


Tip # 3 – Consider lowering the ration of horses that work less
Finally, if the number of horses in your charge does not allow you and your team to take them out or work them every day, don't forget to lower the rations! Otherwise, you risk ending up with overweight horses which could contribute to serious health issues.
So, gradually lower (over 5-8 days) the rations in cereals and supplements, and above all, increase the doses of hay! It will keep the horses in the box, it will reduce the risk of colic, and it will keep them in good shape!
How to keep in touch with the owners and reassure them
Since the challenges do not come alone in this very particular period, here is another difficult one: all the owners are absent at the same time, and forced in addition to stay at home. And, of course, each of them more or less worries about what becomes of their horse. It then becomes an issue to maintain a sufficient level of communication, without however undermining your work day. So managing the owner's is also part of the job!
That's good, if you have a Motion or a Motion S or just the Equisense mobile application, we have a solution that will make your work easier, save you time and reassure your owners. This solution is horse sharing!
📚 Continue reading: Sensor or instructor, do we really have to choose?


Via the Equisense app, you can share a horse's profile with as many people as you want. In this way, each time you indicate an outing or treatment for a horse on the application (available even for users without a sensor) or each time you do a session with the sensor, its owner will be able to see it on his telephone!
If you are equipped with Motion or Motion S, then all of the detailed training information (time at each gait, symmetry, cadence, elevation, number of jumps, heart rate, calories expended, etc.) will be available to the owner as soon as your session will be over.
Feel free to add photos, comments, notes to each session or treatment, to specify the discipline, and even add the exercises you did during the session by drawing from the library of free exercises offered in the app! This brings maximum information to the owner who will be largely reassured! No need to spend the evening reassuring all the owners. They will have access to all this automatically!
It will also give you a good material to exchange with your customers and illustrate the problems, difficulties and progress of the horse with something concrete, even from a distance! 😉
[Tutorial 🤳] How to share your horse on the Equisense app
For iOS: Tab "Sessions" > Share (under the horse's picture) > Share your horse
For Android: Tab "My horse" > VIew profile (above the horse's picture) > Share > Share your horse
This action allows you to create a link that you can send to the person of your choice (by sms, messenger, etc.).
To accept a shared horse, just copy the link and paste it in the Settings tab > Horse sharing link! The horse will then appear in the list of your horses 😊
Check with your owners, they may have already created a profile for their horse on the app! In this case, they can share the horse's profile with you so that you can add your sessions!
⏩ All you need to know about the horse sharing feature
---
Please be aware that the entire Equisense team is fully available to you. If we can be of any help to you, please do not hesitate to contact us!
We know how complicated this time is for you too, so we wish you good luck and thank you for your great work. We are very grateful to you for taking care of our horses ❤️❤️❤️
Camille Saute
Co-founder of Equisense