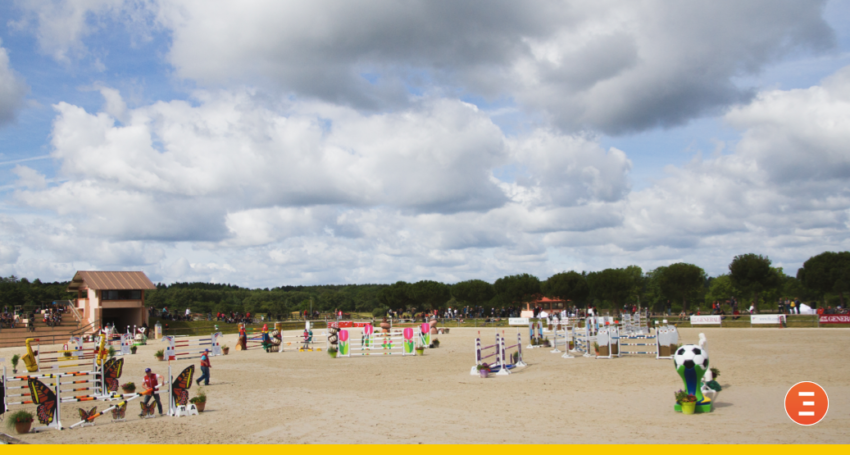 A typical week of preparation for a competition
A typical week of preparation for a competition
The show season is about to start again, and this year I'm sure you want to take your organization and preparation to the next level. So to help you with this goal, let's start by looking at how to organize a typical week of preparation for a competition.
What is the point of having a typical week of preparation for a competition?
Simply because it's the very first step towards an excellent training program.
In fact, in other sports, athletes usually train on a very specific schedule, knowing exactly what they are going to work on, and for what purpose. This is done really early on. It's all about treating you and your horse as athletes in your own right. That's kind of our main point, right?
So if you consider yourself an athlete, you need to train in a rigorous and thoughtful way. The first step in that is to have a standard week that meets certain criteria.
Having a standard week of work will bring rigor in your organization and will allow you to progress more easily. Your horse will have an established routine, and you on your side will be able to better anticipate and program upcoming exercises.
A standardized week is in fact a micro-cycle
If I say that the standard week is the first step, it is because, in theory, the programming of the training of the horse is done a year or at least 6 months in advance. That is to say that one should in fact organize their training six months or even a year in advance, having at least defined the goals and the intermediate competitions.
We will start from the scale of one year and work up to the scale of a week. The "official" terms are:
The season (= a year)

A sequence (~a semester)

A period (~a trimester)

A

cycle (= one month or the time between two competitions)

A micro-cycle (= a week)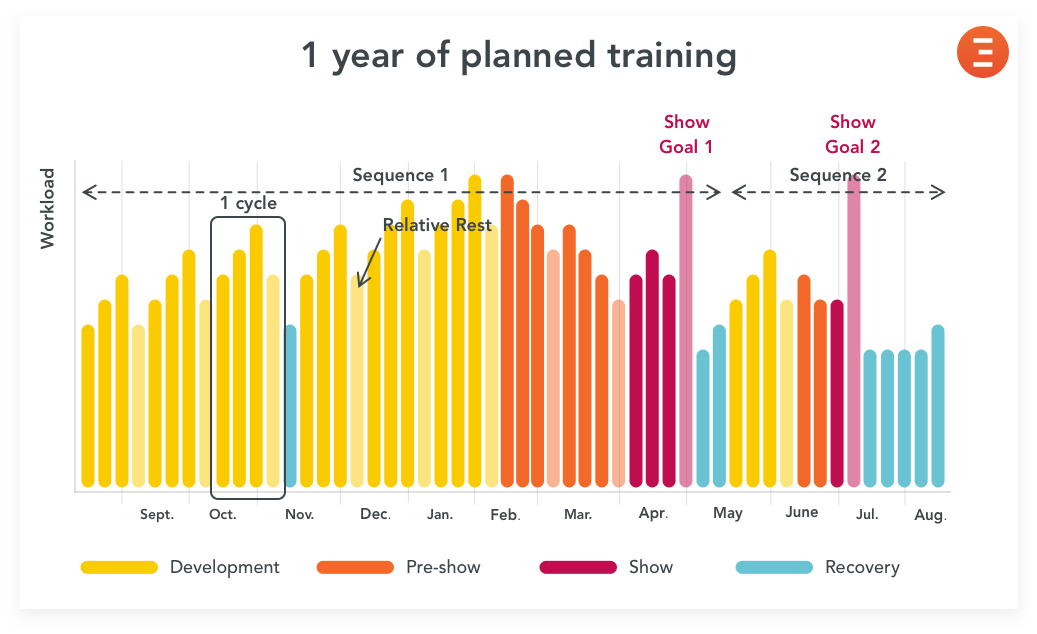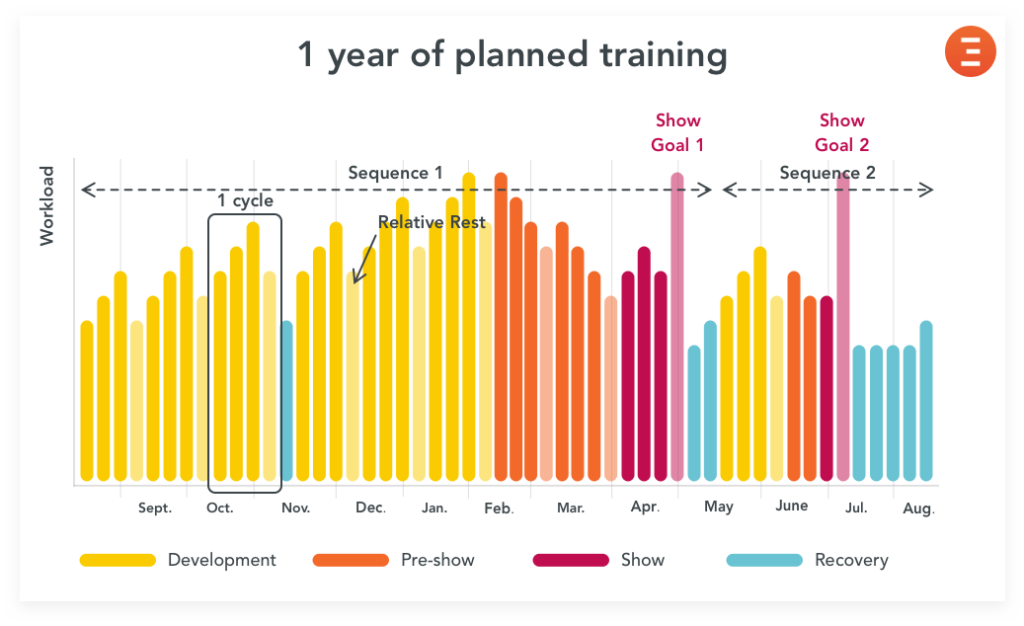 Let's focus today on micro-cycles.
By the way, I highly recommend reading this article to find out what the training plan should look like.
How to plan your horse's training for the entire season
Not one but 3 standardized weeks
In fact, we're not just going to do one standard week. We're going to do three straight away:
a planned week without competition
one with competition
one after competition


How do you plan such weeks?
The first step is to know how to evaluate the workload that has been imposed on the horse until now.
To do so, a number of points to each session according to the workload it represents.
The scores given for each type of session are given here as an example and obviously depend on the content you put into them. They are to be adapted to your horse. But here is an example of a workload for a show jumping horse:
Type of session
Pts
Description

Paddock

1

Doesn't count for horses going every day

Ground work

2

Walker

2

At walk

Hack

2

At walk

Lunge

ing

3

L

ungeing +

4

With training aids and/or ground poles

Stretching

4

We're looking for suppleness, with a low and round attitude

Cavalettis

4

Work on small fences

Trot / Canter Hack

5

30-45 min, on flat terrain, at trot or canter depending on the quality of the ground

Ground work

5

Mechanization (seeking quality of execution by repeating the movements already assimilated)
Technique (learning new movements, or improving a movement)

Jumping mechanization

5

Look for the quality of execution on repeated movements (lines, exercises such as a figure 8 with obstacles…)

Interval training at canter

6

4 to 6 times: 30-45s of extended canter alternating with working canter

Trot hack on varied terrain

6

20-30 min, with slopes

Jumping course

6

Like in a show, done in one or more times

Muscle building

7

Reinback, raised poles, jump from walk, bounce jumps, drop jumps, wide jumps at trot…

Competition

8

May increase according to the number of courses and especially according to the duration of transport.
Two examples of workload calculations
Take the workload chart and establish the workload score you are starting from. Add up the « standard week" points you had up to now and that will give you a score that will be your starting point.
🔎Example 1
Let's take the example of a horse that works 4 times a week: two days of longe without training aids, one day of stretching (ridden), one day of jumping mechanization. That makes a total of 2×3+4+5=15 points.
🔎Example 2
Let's take the example of a horse that, each week, does 2 lungeing sessions, 1 stretching session, 1 dressage session, 1 cavalerais session, 1 jumping mechanization session and 1 trot/canter hack. That's a total of 2×3+4+5+4+5+5=29 points.
Now that you have your workload score, we can move on to establishing the standard three weeks.
1️⃣ A standardized week without a competition
Actually, this one is pretty easy to do, I'm sure you already had one.
The first thing is to set the days you have lessons or other obligations. For example, let's say you take 2 lessons during the week: Tuesday and Thursday. Tuesday is flat, Thursday is jumping. Fill those two days.


Finally, complete the other days of work for your horse according to what he was already doing. The idea is to keep in mind that each of your non-competition weeks should be like this, with a few possible adjustments of course.
Your typical week without a competition represents 27 points in this example.
The important thing here is not necessarily to follow this specific example but to build your own week that will suit you, your horse and the other people who take care of him.
2️⃣ A typical week with a competition
The principle is that on this typical week with competition, we will try to have a similar organization, but with 3-4 points of workload in addition.
So we keep our two lessons of the week, we add the competition on Saturday or Sunday and we complete the week. Here's what it could look like:


For the show we consider that it is still a little more demanding than the same session with the course made at home, and this because of the transport and a little of the generated stress.
By the way, transportation itself is not to be overlooked. If your competition is 2 hours or less by truck from your home, then you're fine. But if you have to do more than 2-3hrs of transportation, then it's to be considered a full-fledged activity, and it can add tremendously to the workload for the week.
Other than that, the competition doesn't really change your typical week. The trot hack on Saturday is simply replaced by a session of flat work intended to make the horse available, in balance and ready for the next day.
3️⃣ A standardized week after a competition
After a competition we keep the same principle, decreasing the workload by 1 to 3 points compared to the week without a competition to give the horse time to recover.
Monday is devoted to a hack in hand and the necessary post show care. Tuesday's lesson is replaced by a stretching session, Thursday is devoted to jumping gymnastics (cavalettis).


There you go! You have all your standard weeks!
Which discipline should you do the day before a competition?
Let's take a few lines to answer that question we all ask ourselves: "What discipline should we do the day before a competition?"
In fact, it doesn't matter. The only thing is that we want to limit the aches and pains for the day of the competition, while still having a real session to avoid myositis.
We therefore choose sessions with 3, 4 or 5 points: Lungeing (with or without training aids), Work on the flat, Cavalettis, Mechanization at the obstacle, Trot / canter hack on relatively flat ground…
By testing, you will find what suits you best: trot hack to get some fresh air, working on small poles to reassure yourself, working on the flat to get the horse back on track for the next day… It's up to you!


And so yes, you can jump the day before a contest!
Indeed, we consider that if you compete, and enough to ask yourself the question of a standard week before and after competition, it is that your horse is sufficiently trained. And therefore he must be able to do a gymnastic session on cavalettis the day before a competition without suffering physically.
In other words, if it is too hard for him, he is not trained enough. In this case, you will have to rethink your organization, to increase the workload to improve the physical condition of your horse. And that's what this article is all about How to plan your horse's training for the entire season
Conclusion
What you should remember from this article is that it is a good idea to make a typical week before/after and without competition to gain rigor, visibility and improve your training. Each of you will build your own typical week, and will also know how to change it if the organization does not suit you in certain aspects! Of course, none of this should be 100% fixed, everything should be improved 😉 In any case, you now have everything you need to build an incredible training schedule.
See you soon for a next article,
Camille Saute
Cofounder of Equisense
---
Sources
P. Galloux, « Programmer son entraînement : exemple du concours complet d'équitation », Equipaedia, 2017. [En ligne]. Disponible sur: Equipaedia
G. Bessat, P. Galloux, et P. Mull, « Planifier l'entraînement du cheval – Organisation générale », Equipaedia, 2017. [En ligne]. Disponible sur: equipaedial.
P. Galloux, P. Mull, et G. Bessat, « Evaluation de la charge d'entraînement – Première approche », Equipaedia, 2017. [En ligne]. Disponible sur: Equipaedia.
P. Galloux, « Construire les microcycles d'entraînement : exemple du concours complet », Equipaedia, 2017. [En ligne]. Disponible sur: Equipaedia. [Consulté le: 01-février-2019].