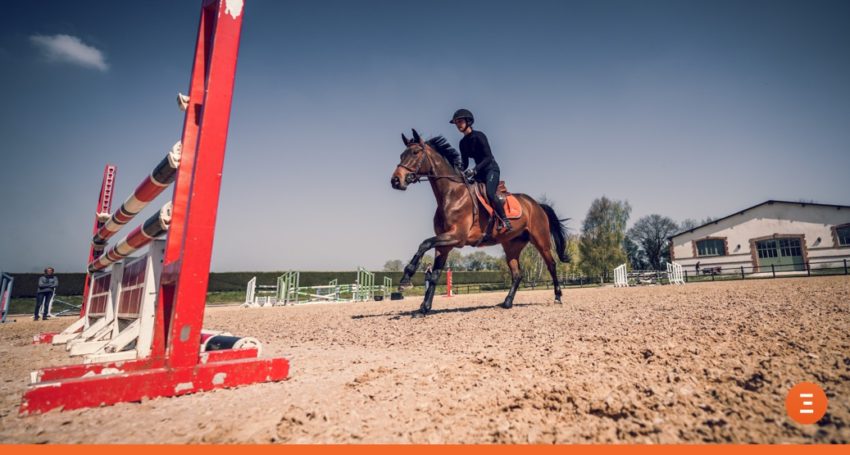 5 exercises for a horse rushing jumps
5 exercises for a horse rushing jumps
A horse rushing jumps is never easy to handle and this "bad habit" is not easy to get rid of. We do not pretend to give you the magic recipe, but some ingredients to try to solve the problem.
Why does a horse rush when approaching an obstacle?
This is the right question to ask in order to implement the right solutions.
Most of the time, the horse does not rush because he is a complicated horse, he rushes because he runs away from the obstacle or because he fears the rider's actions.

Fréderic Aygalenq, coach at Centre Equestre de Cavaillon
Indeed, a horse rushing jumps is usually a horse that is afraid. Finally, it is as if he took his courage in both hands to go. Fear can have several origins, such as :
pain (the horse equates jumping with pain, it generates fear)
a bad past experience
actions of the rider that are too strong
Your role will therefore be to reassure him as much as possible and thus reduce his fear.


Some good practices to put in place when faced with a horse rushing jumps
Here are a few good ideas for you to handle your rushing horse:
Have a health check-up by a veterinarian to eliminate the possibility of pain that would make the horse run away.
Get your saddle checked to make sure it does not sit on the withers when landing.
Get rid of training aids and work a lot on control on the flat.
Work almost daily on ground poles and small cavalettis (40cm max) to trivialize as much as possible the pole and the jump (even when lungeing) and to show that the obstacles do not eat!
Work on jumps at trot and at walk, and have them walk over small obstacles
I noticed that by neutralizing the rider's actions as much as possible, the horses would stop charging. So I ask the rider to take the mane and stand in front of the obstacle so that he is very neutral and does not interfere with the horse. This gives the horse confidence. This technique takes a little time, but it works!

Fréderic Aygalenq, coach at Centre Equestre de Cavaillon
What not to do when faced with a rushing horse
On the contrary, here are a few things not to do:
Putting on training aids and a hard bit (this is a cover-up that does not solve the problem and may even make it worse).
Jump higher or more technical jumps (if the horse is already scared, it could make the problem worse, and that can be very dangerous).
Getting angry at your horse at the landing (he will further associate the jump with something horrible, scary and where he gets punished)
Be careful, this kind of work can take months! Be patient, rigorous, work on your "zen attitude" and the softness of your hand 👌.
📚 Learn more: How about tightening the noseband of your horse a bit less?


5 ideas of exercises to do with a rushing horse
These are some examples of exercises that you can do almost every day, as long as you are impeccable in your actions, and have checked that there is no associated pain.
Exercise 1 : Jumping at trot
Jumping at a trot will help the horse take his time. Also, when jumping at trot, riders often act a little less than at canter. Many riders are focused on counting their strides, so the actions are sometimes too pronounced and can confuse the horse.
With horses that charge, I recommend doing a lot of jumps from the trot. You can also put a pole at 2,50m before the obstacle, or less depending on the amplitude of your horse.

Jeanne Rossez, Eventing rider and trainer at Ecuries d'Huisseau (45)
🔎 Learn more: Which Distance Should I put Between Ground Poles or Fences?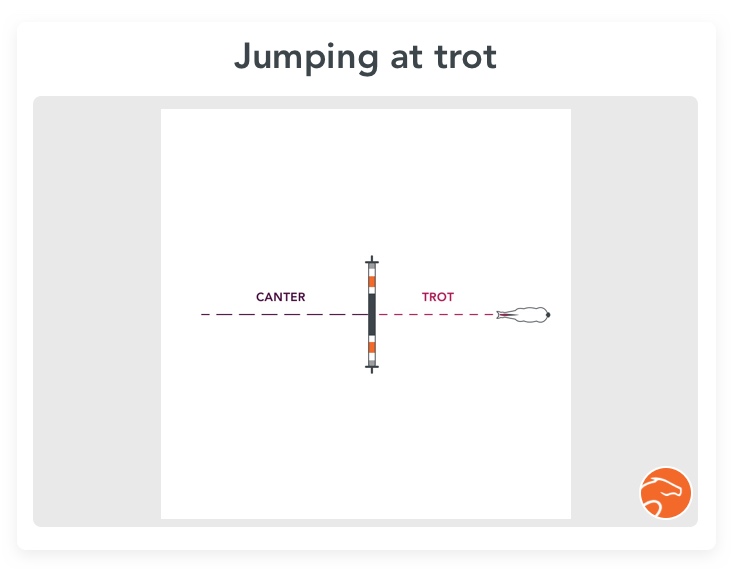 So, approach your obstacle at trot, with soft hands and balance. Reward your horse when a jump is correctly executed.
Exercise 2 : The anchor
The anchor exercise consists of crossing a line of ground poles at trot, with a fairly small amplitude. Then move on to canter and immediately perform a half circle at canter to jump a small vertical without having taken too much momentum.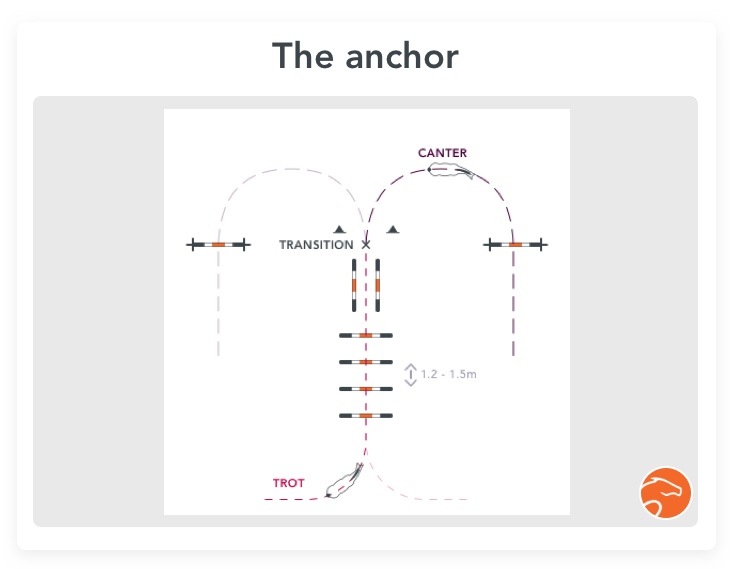 The fact of having these ground poles allows the horse to land in a small trot, in balance. Then, the half circle at canter, will help you to keep the horse calm and in balance, thus in good conditions to go jump the small vertical.
With a horse rushing jumps, you have to be very strict on the straightness so that he is in balance. So, you must not let them rush down the curve while being unbalanced before and after the obstacle.

Jeanne Rossez, eventing rider and trainer at Ecuries d'Huisseau (45)
You can also perform this exercise by transforming the vertical into a ground pole.
Exercise 3 : Figure 8 with an obstacle
The figure eight with an obstacle in the middle will allow you to gradually start linking jumps. The fact that you are on a circle makes it easier to work and maintain balance and a regular rhythm.
Start, of course, with a small cavaletti, even on a ground pole to reassure your horse.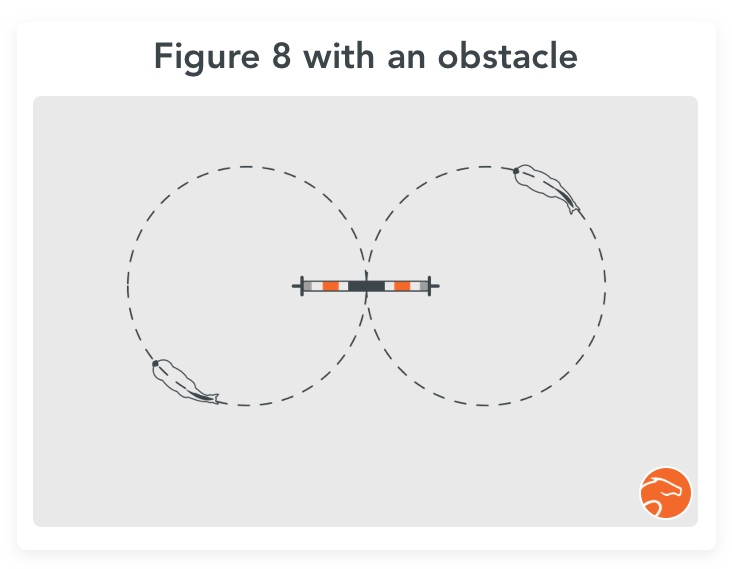 💡 Use your Equisense Motion S to check that the rhythm is regular, and observe the effects on the quality of the approach
With the jump analysis feature, you can ensure that the cadence remains consistent while working on the figure eight. Also, the colored arrows at the beginning of each obstacle will allow you to check if your horse has managed to remain calm in front of the pole or if he has rushed. You will be able to see his progress over time.


Exercise 4 : The cloverleaf
The cloverleaf exercise is based on the same principle: link small obstacles separated by small circles to channel the horse. Don't hesitate at the beginning to trot between each jump!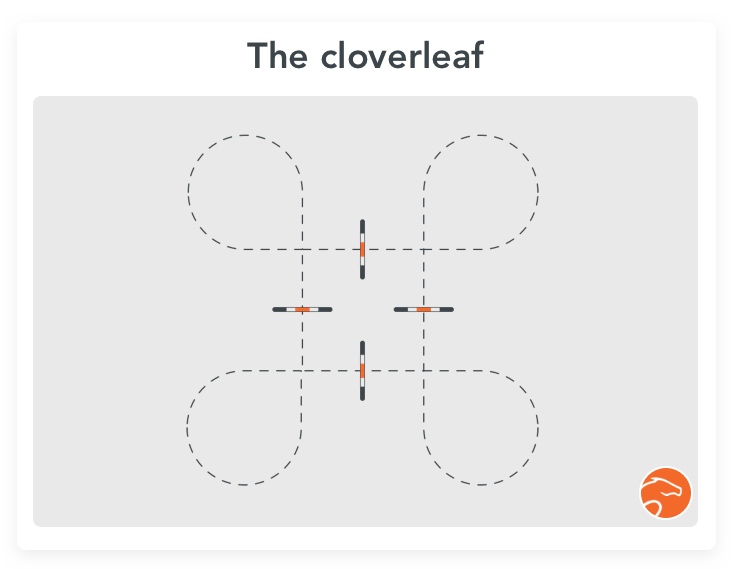 Exercise 5 : Francesca's exercise
This exercise consists in linking a passage on the ground poles on the right hand, then go on the obstacle via a rather small circle. Continue on the second device in the same way: ground pole, small circle, obstacle.
You can also reverse the order: obstacle, small circle, ground pole and repeat on the second device.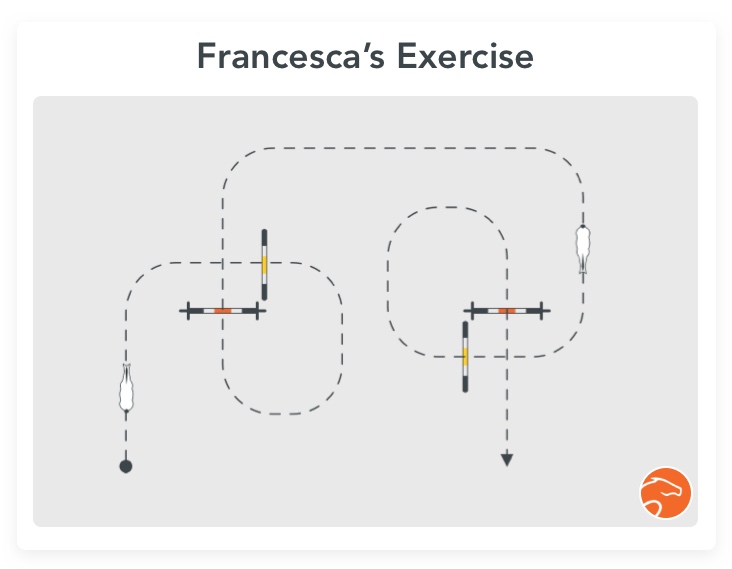 This exercise is very interesting because it also allows you to rework on jumping courses. Take advantage of the time between the two devices to put your horse back into a calm state, to reassure him and to re-establish a good balance. Do not hesitate to go back to trotting to approach the second device.
This exercise was shared to us by Francesca (@studyhorselife).
---
Are you a coach with good techniques or exercises for horses rushing jumps? Share them with us in comments! 💬
See you soon for a new article,
Camille Saute
Co-founder of Equisense and R&D manager