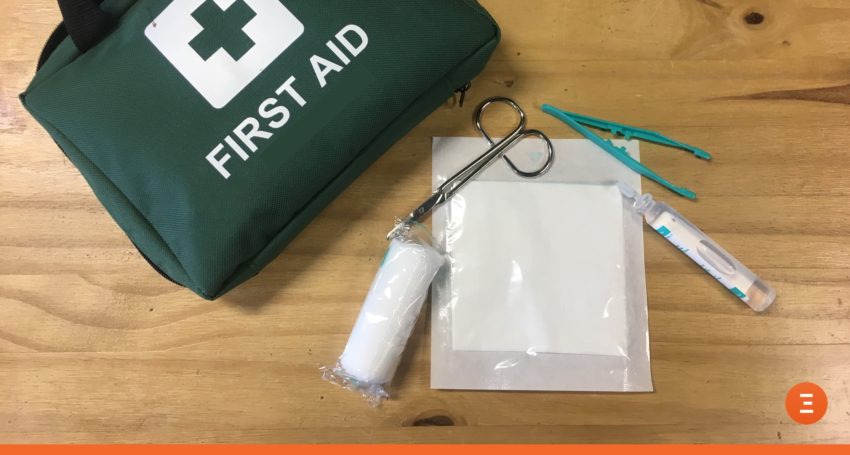 The Horse First Aid Kit that Every Rider Should Have
The Horse First Aid Kit that Every Rider Should Have
Every horse owner must have a first aid kit to manage the daily injuries of his horse, and also to be able to manage wounds or more important health problems while waiting for the arrival of the veterinarian. So what is the ideal horse first aid kit that every horse owner should have?
I would like to thank Dr. Eric Lévy, veterinarian, for his help on this subject.
#1 – Something to measure temperature with
A thermometer is the first thing that everyone should have in their horse first aid kit. There are special thermometers for large animals, but otherwise a classic rectal thermometer will do.
They are very easy to use: you press the button to turn it on, you insert the tip in the anus for 2-3 centimeters and you wait for the beep that indicates that the temperature is stabilized. Be careful, you must not stay in the middle of the rectum otherwise you will measure the temperature of the gases. You have to lean slightly against the mucous membrane. The temperature will be more precise.
Moreover, do not hesitate to put a small dab of petroleum jelly on it. it will make it "less unpleasant" for your horse.
And don't forget to clean and disinfect it between uses either! Gaze and alcohol will do the trick.


What is the normal temperature of a horse?
The normal rectal temperature for a horse is between 37.5° and 38°C at rest. If your horse has just made an effort it will be higher and this is normal. Also, the temperature depends on the time of day. It is in the morning that it is the lowest. Above 38,3°C in the morning and at rest, it is therefore an abnormally high temperature.
To know what is the "normal" temperature of your horse, measure his temperature several times when he is well and at rest (always at the same time of the day), that will give you a reference!
#2 – Something to treat the wounds with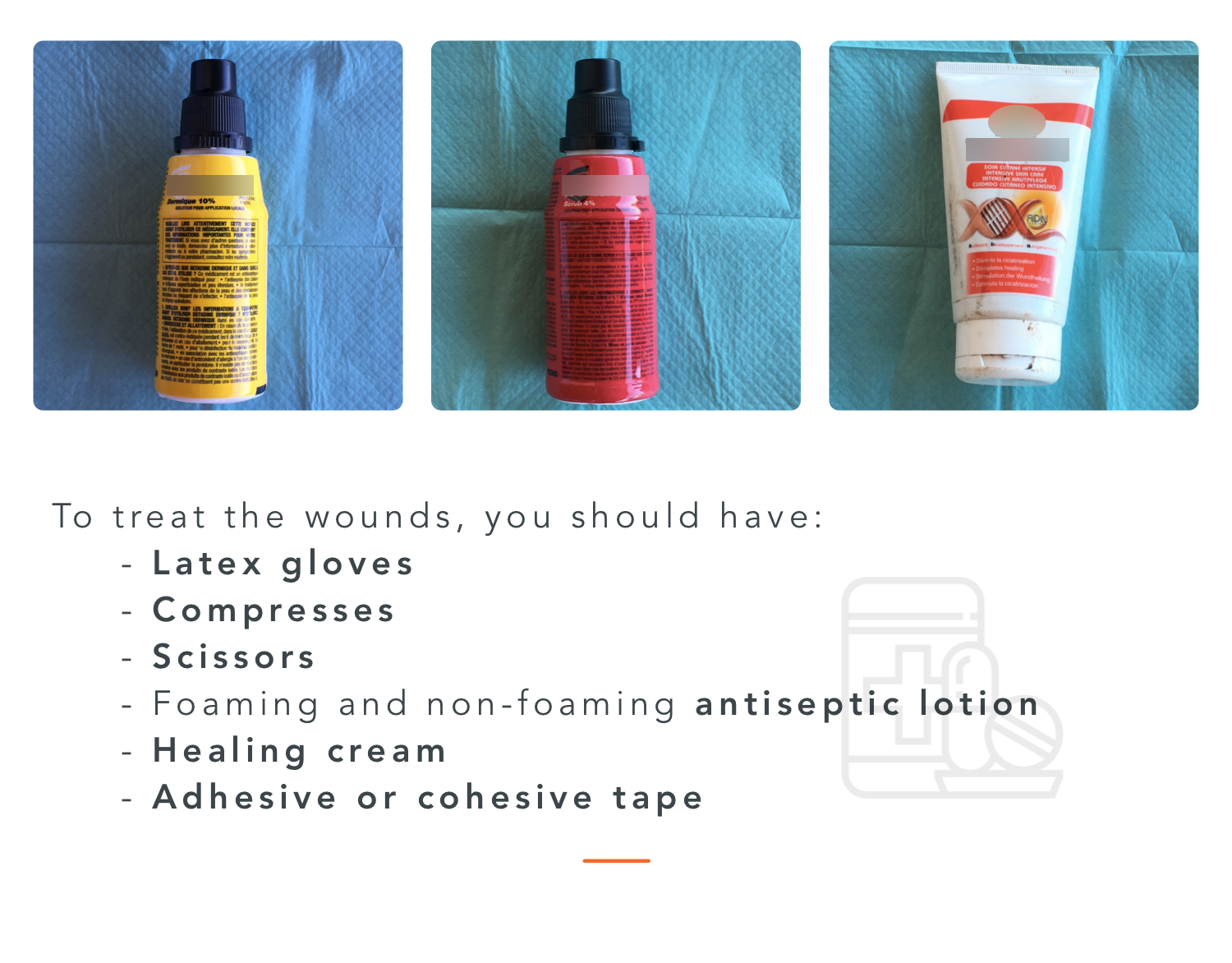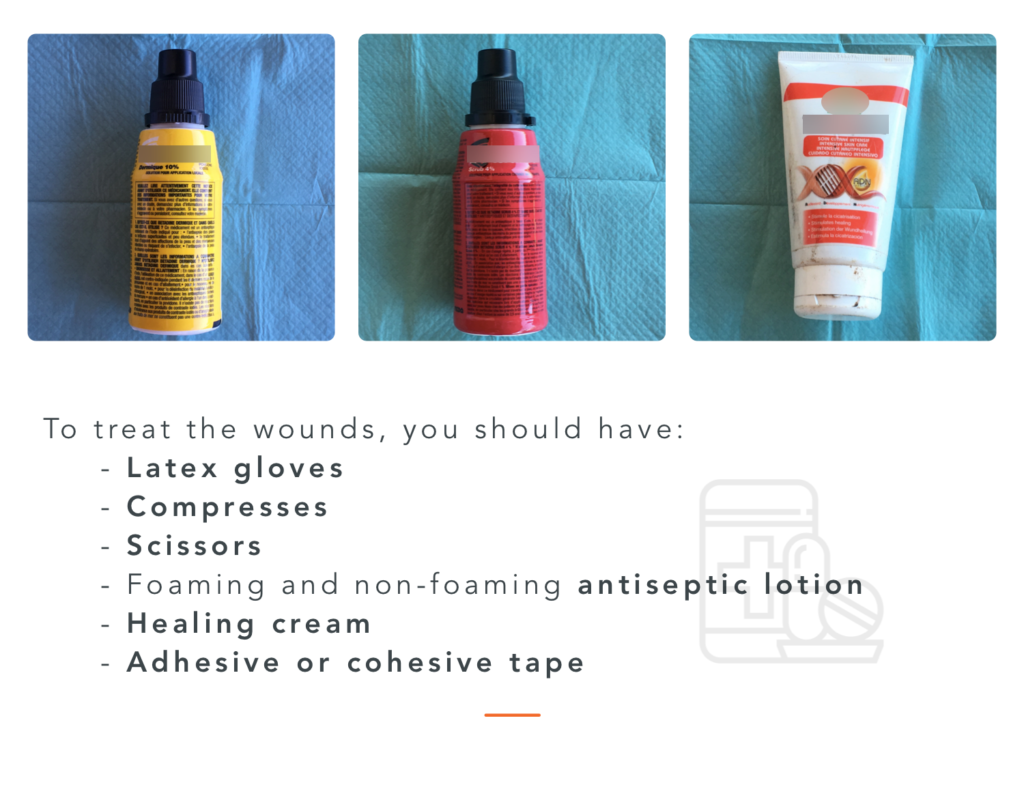 Wounds and sores of all kinds are probably the most common things you will have to deal with in your horse's life. Wounds can be due to the living conditions of your horse. A small injury in the paddock can happen quite quickly. The horse can also get stuck in his stall and get scratches. In short, it happens a lot.
To be able to treat your horse's small wounds, here is what you should include in your horse first aid kit:
latex gloves
gauze compresses
a pair of scissors
foaming antiseptic lotion
non-foaming antiseptic lotion
healing cream
elastic or cohesive adhesive tape
A few precautions, however
Wound care should not be taken lightly. If you are unsure about the depth, location or appearance of the wound, contact your veterinarian.
A large, deep, already infected or granulating wound must be treated by a veterinarian. A badly treated wound can have important consequences. Do not neglect this aspect. Don't try to treat a wound approximately without professional advice.
How to treat a superficial or moderately deep wound?
When the wound is actually more of a boo-boo (shallow, reached the skin but has not broken through), then we can treat it ourselves.
The first thing to do is to clean the wound. To do this, you need to cut all the hair around it so that it does not go into the wound. Use the scissors while wearing sterile latex gloves. The minimum is to have washed your hands well before.
Once the wound has been cleared, it must be cleaned using a foaming antiseptic. There are also "scrub" sponges that are pre-soaked in solution. It is very practical.
Rinse with water, then apply a non-foaming antiseptic lotion using compresses.
Finally, apply a healing cream and repeat the treatment every day!
Grandma's healing hack
By the way, did you know that Aloe Vera or honey are excellent healing creams? I must admit that I always have a tube of Aloe Vera gel to take care of all the little injuries. It is very effective. As for honey, it is rather used in the case of large wounds, mostly under bandage, and within the framework of a precise care protocol. It is less used for the minor injuries.


Equipment-related injuries
I can't talk about wounds without mentioning injuries related to the equipment (commissure of lips, withers, legs, girth …).
The first thing to say is that if your horse hurts because of his equipment, it means that this equipment is not adapted to him and that it is necessary to change it.
Wither wounds are the most obvious sign that the saddle is not well fitted. Your horse cannot move properly with a saddle that hurts him. Withers pads and products of the same genre are not a good long-term solution. The right solution is to find a saddle that will not hurt your horse.
Learn more about saddles: What are the consequences of a poorly fitting saddle?
Imagine yourself with boots that hurt, with a helmet that hurts your forehead, with a bra that cuts you in the shoulders or pants that hurt your waist. You can't be effective on horseback with equipment that hurts. It's the same for your horse.
If you wish to be assisted in finding a good saddle, don't hesitate to call on an expert in Saddles from the Voltaire Design team. The trial is free and without obligation to buy:
#3 – Something to clean the eyes with
For the eyes, there are not a thousand and one products. Saline solution in single-dose form is the only thing you can use serenely and in all cases as a first-line treatment.
Eye wounds are delicate to manage. Do not use eye drops or other anti-inflammatory products without the advice of your veterinarian. It can be worse than anything. Call your veterinarian when in doubt.


#4 – Something to make your horse swallow medicine with
Sooner or later in his life, your horse will have to swallow a medication. For this, you need a 60ml syringe. In the case of oral powders, you can mix the medication with water or applesauce. This will prevent your horse from refusing to eat his ration because there is something "weird" in it.
#5 – Something to stop a hemorrhage with
I have never personally experienced a case of hemorrhaging in a horse, but apparently it happens more often than you might think. Bleeding must be contained before the vet arrives. You can probably understand why…
For this, you can use a compression bandage. This comes in a roll and looks like a very thick cotton. It is also used for foot wounds. The compression bandage applied to the wound and held in place with an adhesive or cohesive strip until the vet arrives. It helps to compress the wound to limit bleeding.


#6 – Other creams, shampoos and powders of all kinds
In addition to what has already been said, there are antibacterial and antifungal lotions / creams / shampoos to treat small pimples or cracks that may occur from time to time.
Read as well: How to get rid of Mud Fever
We can also mention the green clay which can always be useful in case of engorgement of the legs.
In the summer, it can be good to have a rehydrating agent (electrolytes), if your horse has to work a lot. You can find them in different forms (powders, oral pastes, liquid …).
On the same topic: How to react if your horse sweats and is dehydrated
Finally, insect repellent products can also be considered as part of the horse first aid kit that we should all have. And if you were wondering, yes there are effective products. It's just that they never last very long.
#7 – What about injectable products?
I can't talk about the horse first aid kit without mentioning injectables.
Injectable products such as anti-inflammatories or antispasmodics are not openly available. They must be prescribed by your veterinarian and therefore require a prescription and dosage. Therefore, they are not part of the horse first aid kit.
If you have them as an individual, it is not necessarily good. However, there are some exceptions for chronic illnesses. Also, equestrian structures are allowed to have such products, if they have done a "Sanitary Assessment of Breeding".


Chronic illnesses
In the case of chronic diseases, such as recurrent airway obstruction for example, owners can have a bottle of anti-inflammatory medication to manage big crises. However, this requires a visit from the veterinarian who will also give you a prescription specifying for example "In case of crisis, inject N ml of product XXX intravenously". Without this prescription you are normally not allowed to have these products!
Learn more: 8 things to know about Recurrent Airway Obstruction in Horses
Injections are risky!
It is important to know that failed injections can have serious consequences. Anti-inflammatory drugs have serious side effects such as the risk of laminitis which is not negligible. Also, some products injected outside the vein can lead to roaring if the laryngeal nerve is affected. Or even the almost instantaneous death of your horse for other substances ….
Learn more: 7 things to know about roaring in horses
Therefore avoid giving injections without being trained and without a veterinary prescription.
Short overview of the ideal contents of your horse first aid kit
Thermometer
Vaseline
70° alcohol
Latex gloves
Gauze

Compresses

Scissors

Foaming antiseptic lotion

Non foaming antiseptic lotion

Healing cream

Elastic or cohesive adhesive tape

Aloe vera gel

Saline solution (single doses)

60mL

syringe

Compression bandage

Antibacterial / antifungal cream

Green clay

Repellent product

Electrolytes
---
These are the pharmaceutical products that every rider should have in his horse first aid kit.
What kind of products do you have?
Camille Saute
R&D Manager at Equisense
---
Sources
F. Clément, I. Barrier, F. Grosbois, et C. Villerouge, « Signes de bonne santé et constantes biologiques », Equipaedia, 2011. [En ligne]. Available on: Equipaedia. [Visited on: 09-May-2018]
I. Barrier, J. M. Betsch, et C. Villerouge, « Soins aux plaies », Equipaedia, 2011. [En ligne]. Available on: Equipaedia. [Visited on: 09-May-2018].
See to : Kit de premiers soins
Illustrations
Thermometer by vectoriconset10 from the Noun Project
Drug by Eucalyp from the Noun Project
AloeVera By Biology Big Brother from Eukaryotic Cell, Organism (Aloe Vera) [CC BY 2.0 (https://creativecommons.org/licenses/by/2.0)], via Wikimedia Commons