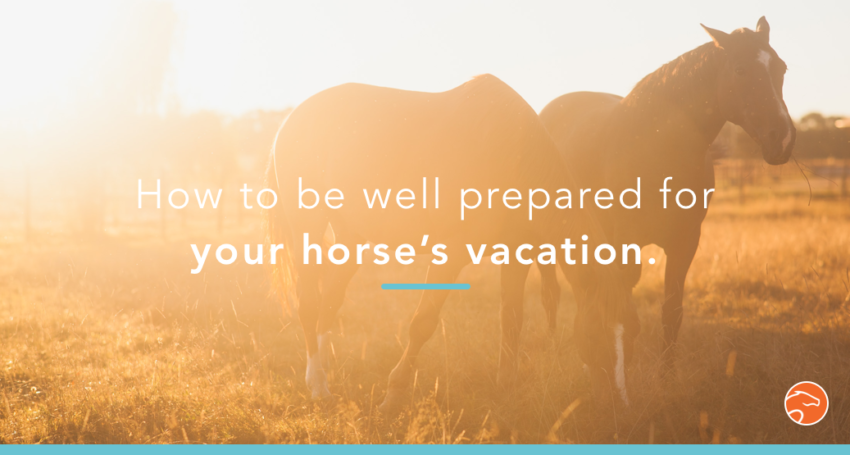 7 Things You Need to Prepare for When Your Horse is Going on Vacation
7 Things You Need to Prepare for When Your Horse is Going on Vacation
It's well into summer now and a lot of horses are going to spend the rest of the season in the paddock. This is something you have to be well prepared for, especially if your horse lives in stables all year round! In this article, I will give you 7 things you should prepare before your horse goes on vacation. 🏖
#1 – Have a dietary transition period of 8 to 10 days
⏩ Learn more: Cereal free feeds
Dietary transitions are not quite a habit that horse owners have acquired yet, but it is very important. A brutal change in your horse's diet is kind of like when you go on a trip to the other side of the world, we take some time to adjust… For your horse, it is the same, there's a risk of some "digestive problems" 💩
What you have to keep in mind is that you absolutely need to have a dietary transition period of 8 to 10 days.
Here are a few diets you can adopt:
1/ Feed your horse the same concentrates
In this case, no problem, just remember to gradually decrease it's portion every day. Less activity = less food! If you're not careful, your horse can get too fat!
2/ Feed your horse concentrates which are different from the usual ones
In this case start gradually mixing the new concentrates and the old ones to have a smooth transition.
3/ Don't feed your horse any concentrates and let it live on 100% fresh grass
In this case gradually decrease the daily portion of hard feed and give your horse more hay before you let them out in the paddock!
#2 – Letting your horse out in the paddock before vacation
If your horse isn't used to being turned out in the paddock during the year, they will be more chance of complications, therefore, it is important to have a smooth transition here as well.
The important thing is to avoid your horse being a bit silly and hurting themselves. To start, let them loose in a small paddock after you have done a good work session. If your horse is tired, they should be calmer and less prone to jumping around. You can put on bell boots and protections if you wish, just to be safe.
Saying this, don't overprotect your horse. Horses are expressive animals, and allowing them to express "behaviors specific to their species" is part of the definition of animal wellbeing. It's important to let them convey their enthusiasm… their own way!


#3 – Let your horse out in the paddock in small groups 👯
If your horse is going to be on vacation in a group with other horses, they have to get used to being with some friends first.
As I was saying in the article on changing stables, social interactions are really important for our horses. Unfortunately, we're often afraid of them getting hurt and we're not really letting them touch each other, or feel each other. That's a mistake!
By forbidding the contact, we are creating these "socially awkward" horses. If they never had any interactions with other horses, they can't know how to "live in society".
So let your horse be friendly to other horses! Let them smell each other and give each other kisses. A good start is to find a friend your horse gets along with and let them loose together.☺️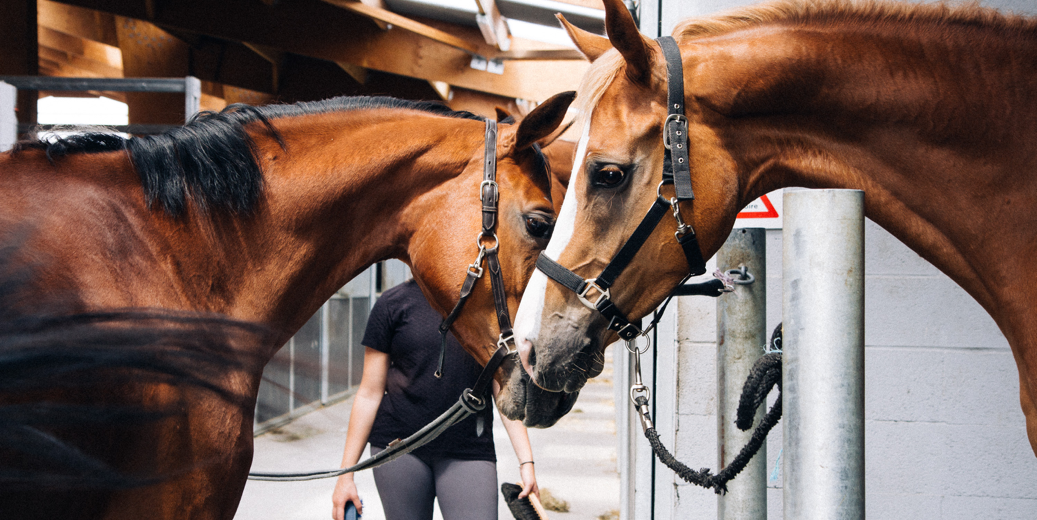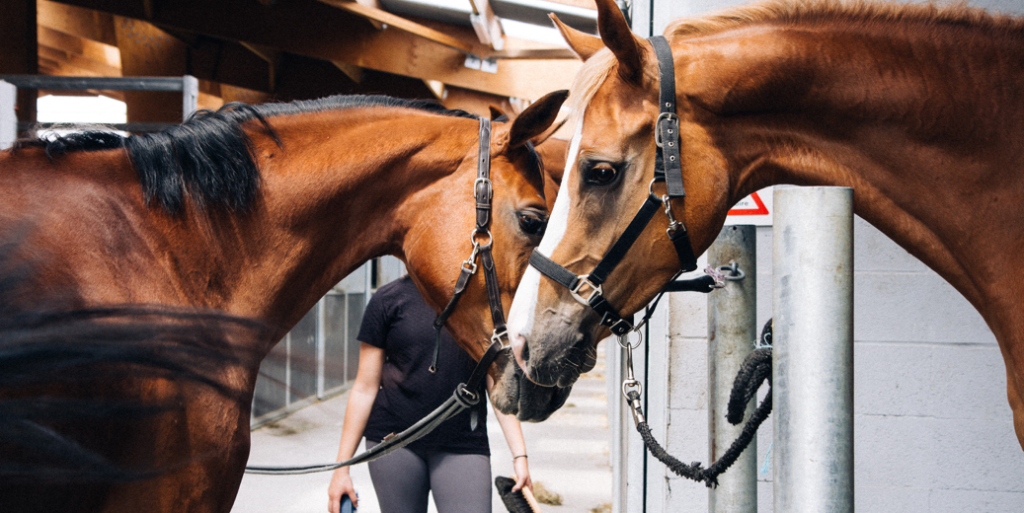 #4 – Find the right fly repellent!
There is a lot of different fly repellents available, be sure to test the repellant on a small area of your horse beforehand to see if your horse is not allergic to it. You wouldn't that this can happen but it does!
It's important to note that the action of fly repellent is pretty short because it gets diluted by your horse's sweat, you will have to reapply it often. It's important to look at the dilution indications on the back of the bottle to ensure you are applying it correctly!
"Every year, veterinarians are called to save intoxicated horses."
– Marine Slove, Veterinary
Learn more: Sweet itch
#5 – Put a full-body mesh rug and a fly mask on your horse 👨‍🚀
It's ugly, let's face it, but it's still much better for your horse than getting bitten the entire day! By using a full mesh (honeycomb) rug (which protects the neck and the stomach) your horse will be safe from aggressive insects like horseflies.

The same applies for fly masks, your horse will look like an idiot but it will be safe from harm.

#6 – Gradually decrease your horse's workload
This is similar to the dietary transition, we don't usually take enough time to prepare our horses for a halt in their training regimen, even though we should.
To avoid myositis, you have to gradually decrease your horse's workload. Take advantage of the dietary transition to do so, which means you have 8 to 10 days!
Start by decreasing the time at canter, without decreasing your session time. Lastly, decrease the total session time. By the end of your 8 to 10 day transition, you should be achieving around a 20 minutes session.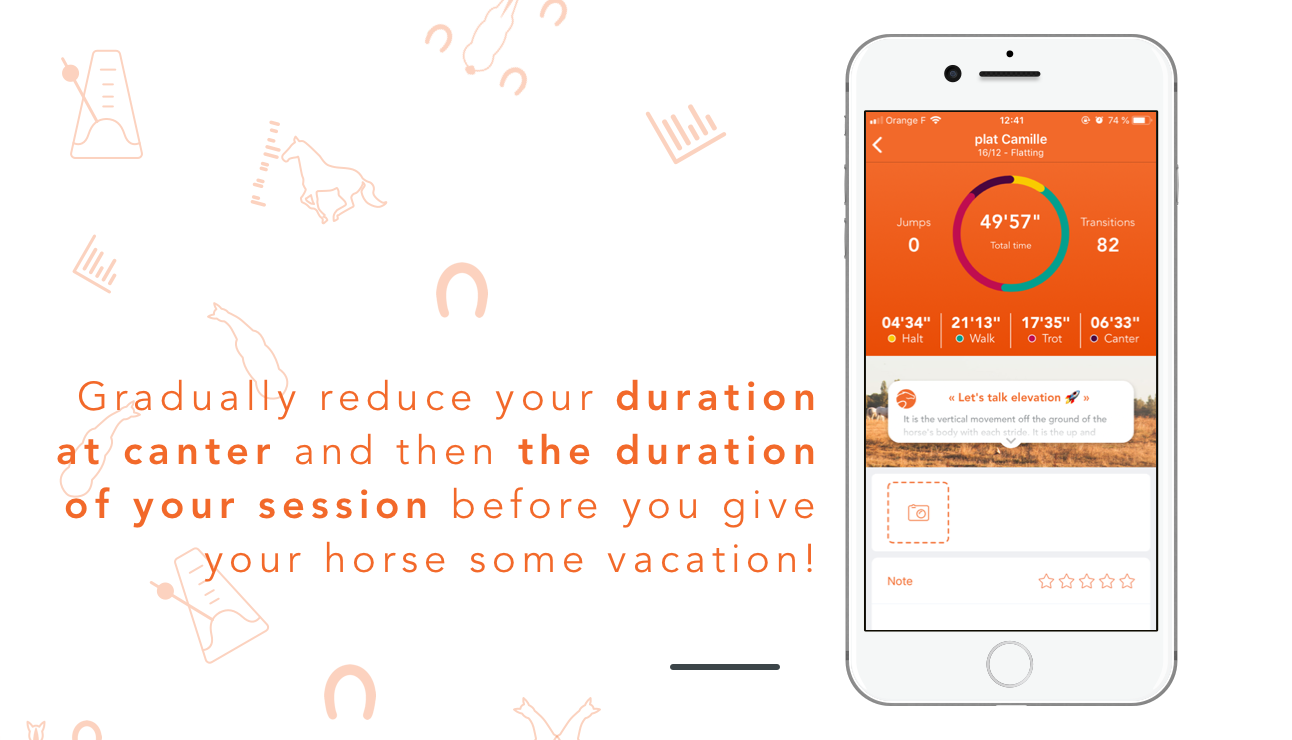 Learn more: How to avoid myositis?
#7 – Get the farrier for your horse
Lastly, get your farrier to remove your horse's shoes at least from the hind legs. If your horse is going to the paddock with other horses, it is always safer to do this, all 4 shoes preferably.
If your farrier is coming to shoe your horse, inform them that your horse will be out in the paddock for the next month or so because he may adapt your horse's shoes!
When your horse doesn't have shoes, have the farrier trim the hoof so your horse is ready for its vacation!
On the same topic 📚 : 7 exercises to get your horse back to work
Have a great summer!
Camille Saute
Equisense Cofounder
---
Illustrations

Fly icon, created by Gilad Fried from the Noun Project