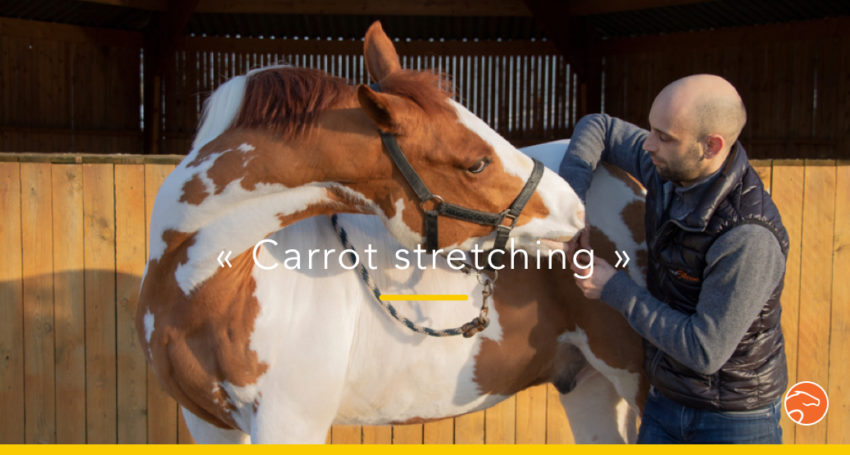 13 Stretching/Relaxation Exercises do to with Your Horse at Home!
13 Stretching/Relaxation Exercises do to with Your Horse at Home!
Relaxation exercises for your horse is a great way to help them progress and prevent musculoskeletal problems. These 13 exercises are perfectly complementary to ridden exercises and they will give great results, on the condition that you do them well and that you respect your horse! In this article, we have given you all the tools you need to perform these exercises for your horse at home!
Why should you do relaxation exercises with your horse?🧐
Stretching and muscle relaxation exercises that you do on foot allow for your horse to make moves with a greater amplitude than usual. The goal is for your horse to warm up and progress!
Doctor Emilie Dallongeville describes these relaxation exercises as allowing to "go past physiological limits but not past the anatomical ones, in order to progress".



The exercises will benefit your horse in several ways:
Warming up your horse before a session
To have your horse make eccentric contractions of their muscles which are not used to doing so, thus developing their strength and muscle tone.
Helping your horse acquire new movements or to increase the natural amplitude of their current movements. Example: perfecting extensions and increasing the quality of their movement. When you get your horse to relax in their muscles, they will learn things and progress at a faster pace.
Keep in mind that the work you will perform on the ground, when combined with good ridden work, equals to muscle building for your horse! Muscular relaxation exercises are a great way to prepare for your session!
📚 Read also : 7 "must know" about your horse's muscles
Stretching can also be used as part of rehabilitation after a sickness, but this topic is not covered in this article. In these cases, the movements must be done by a professional.
Necessary precautions to take before doing relaxation exercises to your horse.
Be careful, the exercises you do on the ground can be very damaging if they are not performed correctly, or if they are done on a horse with a sickness. It is very important to check with your vet or osteopath that the exercises you are about to do are okay for your horse.
Take take and be very attentive to the slightest resistance or discomfort sign from your horse. It is very simple: if your horse does not want you to do it, then don't. In this case, chat with your osteopath or vet, they'll help.
The results will take some time to see, however, if you are patient and regular in the exercises you will see a big result at the end.
"Without regularity, no efficacy" – Dr Dallongeville
A few important rules:
Always start with small pressure and movement, increase it little by little throughout sessions.
Always start by your horses preferred side, this will put your horse in good spirits.
Don't hesitate to use carrots or treats to help get the movement or to reward!
On the topic of the movement's duration, Dr Dallongeville suggests an easy method: 5 repetitions of 5 seconds each while using the following technique:
Count 5 seconds. On seconds 1, 2 and 3, stretch progressively. On seconds 4 and 5, hold the position. Then let go and start again 4 other times.


How do you know if it works?
In order to know if your efforts are paying off, the best way is to objectify them thanks to specific measuring tools.
At Equisense, we have developed Equisense Motion S sensor which precisely analyses the different parameters of your horses movement quality (symmetry, rhythm, elevation), as well as the horse's heart rate during ridden or groundwork.
This tool is fixed on a girth or a surcingle, and is linked to the rider's phone to bring them all the information, in real time or at the end of the session.
By following these indicators, you can check the following: if your horse is warming up faster after having done the relaxation exercises, if it's elevation is increasing, if there is a better symmetry, if there is a more regular rhythm and if the heart rate lowering during sessions. All this will tell you all about your horse's progress!
13 stretching exercises for your horse
Let's get to the actual exercises:


1️⃣ Neck Stretching
To stretch and relax the neck, you can proceed in 4 different ways.
Take a carrot and place it:
towards the chest
in between the knees, maybe even further back (while staying at the same height)
above the point of the elbow
towards the fold of the stifle
Each of these movements will stretch a different part of the neck. They are all complementary. Mobilizing the neck allows for a good mobilization of the back!
Don't forget the 1, 2, 3, 4, 5 rule: 1, 2, 3 – stretch, 4, 5 – hold, and then repeat 5 times in total for each side.


2️⃣ Back Stretching
To stretch the back, we'll proceed in two ways, this time without a carrot.
For the first method, we look for chest flexion. Go next to your horse (any side), slightly behind the shoulder. The goal of the exercise is to have your horse do the "round back". To do so, you just have to caress the sternum (the girth), applying a slight pressure with your hand. The tickly horses will round their thorax a lot while the others won't budge! Be careful when doing these exercises because horses with sore stomachs might not like this.
In the second method, we are aiming for lumbar flexion. Go behind your horse (mind your safety here, don't do this if you have any doubt). Simply place both your hands on the points of the buttocks, and while applying some pressure, slide your hands downwards, as if you were pulling an imaginary cover down. Your horse should lower their hips to follow your hands and by doing so, flex their back. If they do not react, close your fists to have a more protruding contact and start again, while staying soft in your touch. You should see your horse put their tail in and round its back.
I only gave you two exercises here. More exist, but if you wish to go further, it is better to ask a professional what to do with your horse.
📚 Read also: 3 tips to efficiently build back muscles for your horse.


3️⃣ Foreleg Stretching
To stretch and relax the forelegs, I suggest 4 methods:
Forwards stretch (protraction): Go in front of your horse, and take their foreleg by putting a hand above the fetlock and the other in the crease of the pastern. Stretch the leg forward and downwards. Pretend like you want them to put their leg down as far as possible.
This exercise will help you improve the extensions of your horse!
Backwards stretch (retraction): Face the same direction as your horse. Take the leg by putting one hand above the knee and the other by the pastern. Slowly bring the leg backwards and downwards, as if you wanted to make them touch their back hoof.
Inwards stretch (adduction): Here, you want to have your horse cross their forelegs. To do so, go on the opposite side (on the right to do the left foreleg). Take the leg you want by holding it by the top of the cannon, and stretch it towards you and downwards, by crossing in front of the other leg.
Outwards strech (abduction): You want here to stretch the leg outwards. This time, go on the side of the leg you want to stretch. Take it by putting a hand above and the other under the knee, and stretch it outwards, just like in a lateral movement.
These last two exercises will help you a lot to improve lateral movements!
📚 Read also : 3 exercises to strengthen your horse's shoulder muscles.


4️⃣ Hindleg Stretching
For the hindlegs, we will only see 3 exercises, because the abduction is more difficult than for the forelegs.
Forwards stretch (protraction): Go next to your horse, facing their tail. Take the leg and bend it. Then, put a hand on the back of their fetlock and the other in the crease of the pastern. Stretch their leg forwards and downwards. Do this as if you wanted them to touch the bottoms of their heels on the foreleg.
Backwards stretch (retraction): We'll work in a less conventional way here for obvious safety reasons. Go next to your horse, by their hindleg, facing the hindquarters. Ask for their hindleg that is on your side, and place the fold of the hock on your thigh (left thigh if left hindleg). Move this thigh forward in order to create a split between your legs, on the horse's side. Your other leg should be stretched behind you to keep your balance. The idea is to make the hindleg go as far back as possible.
Inwards stretch (adduction): Here, you want to cross the hindlegs of your horse. To do so, go on the opposite side (on the right to work on the left hindleg). Take the hindleg by holding it by the fetlock and pastern. Stretch it towards you and downwards (so towards the right for the left hindleg), by crossing the leg in front of the other leg.
These exercises will help you a lot in ridden work, just like the forelegs exercises!
📚 Read also : Here is how to get your horse's hindquarters muscled.
Find most of these exercises on the Equisense mobile app
Most of the exercises are available for free on the Equisense mobile app. Don't hesitate to download it, it's available on iOS and Android and does not require any subscription.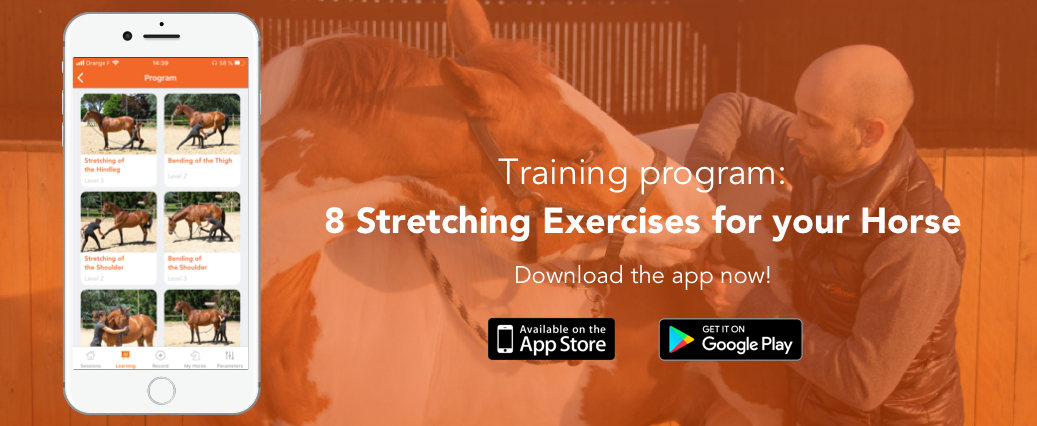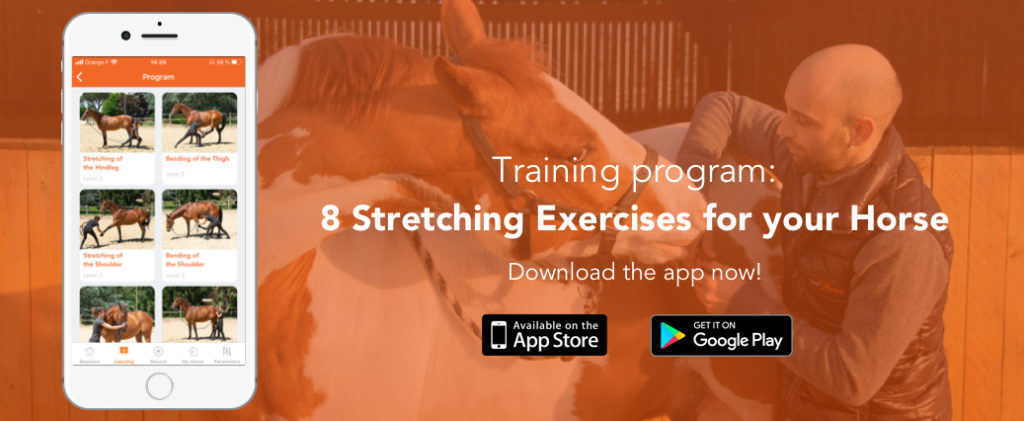 ---
Many scientific studies have proved the efficiency of these muscular relaxation exercises for horses, what we call "carrot stretching". Don't hesitate to get to it! In addition to all the benefits for your horse, these exercises will allow you to spend time with your horse, to develop your bond and to better know their limits and tolerance. All of this will prove to be very useful to create a meaningful link between you two.
See you very soon for a new article,
Camille Saute
Cofounder of Equisense
Bibliography
[1] J.-M. Denoix et J.-M. Pailloux, Approche de la kinésithérapie du cheval. Paris, France: Maloine, 1997.
[2] J.-M. Denoix, Biomécanique et gymnastique du cheval. Paris, France: Vigot, 2014.
[3] K. Haussler, « Joint Mobilization and Manipulation for the Equine Athlete », Vet. Clin. North Am. – Equine Pract., vol. 32, p. 87‑101, 2016.